Local police in the province of Oruzgan said 30 other people were wounded when the bomber blew himself up near a NATO-led convoy in a market place in Deh Rawud.
The NATO-led force, however, says six people were killed in the blast, while the Dutch Defense Ministry announced that seven of its troops were injured in the attack.
NATO spokesman Major John Thomas accused the attackers of showing no concern for the safety of civilians:
"This [bombing] was during the day when people were shopping, it was near a school, and the number of children who were injured or killed -- that number may rise as we find out more about this," Thomas said.
A purported spokesman for the Taliban claimed responsibility for the blast.
Less than a month ago, a bomb exploded on board a police bus in the capital, Kabul, killing 35 police and civilians.
(AFP, AP, Reuters, dpa)
The Afghan Insurgency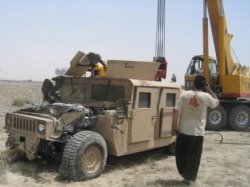 A U.S. military vehicle damaged by insurgents near Kandahar (epa)
HOMEGROWN OR IMPORTED? As attacks against Afghan and international forces continue relentlessly, RFE/RL hosted a briefing to discuss the nature of the Afghan insurgency. The discussion featured Marvin Weinbaum, professor emeritus of political science at the University of Illinois at Urbana-Champaign, and RFE/RL Afghanistan analyst Amin Tarzi.
LISTEN
Listen to the entire briefing (about 83 minutes):
Real Audio
Windows Media
ARCHIVE
RFE/RL's
coverage of Afghanistan
.
SUBSCRIBE
For weekly news and analysis on Afghanistan by e-mail,
subscribe to "RFE/RL Afghanistan Report."