China, Turkmenistan Sign Natural-Gas Deal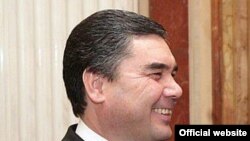 Gurbanguly Berdymukhammedov (file) (official site) July 18, 2007 -- China has signed a 30-year contract to buy natural gas from Turkmenistan.
China's Xinhua News Agency reported the deal was signed July 17 during a visit to Beijing by Turkmen President Gurbanguly Berdymukhammedov.
China's biggest oil company, China National Petroleum Corporation (CNPC), said it would import 30 billion cubic meters of natural gas annually for 30 years through a planned Central Asian pipeline.
CNPC did not say when deliveries would start, but Turkmenistan's official press has said construction of a gas pipeline between the two nations would begin in 2009.
(AP, AFP)