Zvyagintsev said the country's constitution does not allow for the extradition of Russian citizens. He said Britain's reaction to Russia's refusal to extradite Lugovoi was "legally unjustified, inadequate, and motivated solely by political reasons
that lie outside the legal realm of extradition issues."
Lugovoi is the chief suspect in the radioactive-poisoning death of
former Russian security officer Aleksandr Litvinenko, who died in
November 2006 in London.
Zvyagintsev added that "Russia has not received a single official document -- I stress, a document, not
just a piece of information -- indicating the causes of Litvinenko's death or a
document containing information about traces of the criminal use of polonium-210
found on British territory."
Meanwhile, in an interview, Britain's ambassador to Russia, Sir Anthony Brenton, challenged this view, saying that in some circumstances, the constitution is "capable of interpretation."
In his first monthly press conference as British prime minister today, Gordon Brown urged the Russian government to assume its "responsibility" and extradite Lugovoi.
It is very important that the world understands this -- that you cannot have people assassinated on British soil and then discover that you wish to arrest someone who is in another country and to be not in a position to do that," Brown said. "We cannot tolerate a situation where all the evidence is that not only was one person assassinated, but many other people were put at risk."
(compiled from agency reports)
Aleksandr Litvinenko: A Timeline
Aleksandr Litvinenko: A Timeline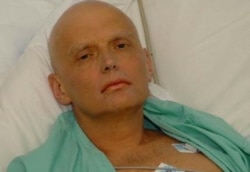 CLOAK AND DAGGER: A timeline of a murder case that unraveled after Andrei Litvinenko, a former Russian security officer and vocal Kremlin critic, dies on November 23, 2006, of poisoning by radioactive isotope polonium-210.
In a deathbed letter, Litvinenko blames Russian President Vladimir Putin for his death -- a claim Putin condemns.
Investigators center on two meetings in London that Litvinenko had described -- one in which he met with two Russians for tea in London, and another in which he met with a third Russian at a sushi bar.
Six months later, British prosecutors announce they have enough evidence to charge a Russian citizen -- one of the men who had met with Litvinenko for tea -- with the murder ...more...
MORE: Coverage in Russian from RFE/RL's Russian Service.
ARCHIVE
RFE/RL's English-language coverage of
Russia
.
SUBSCRIBE
For news and analysis on Russia by e-mail,
subscribe to "RFE/RL Russia Report."