Three Killed In Arson Attack In Chechnya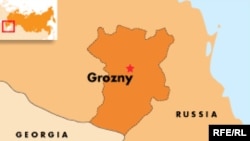 (RFE/RL) August 5, 2007 -- Three people have been reportedly killed, including a child, in a series of arson attacks by militants in Russia's war-ravaged province of Chechnya.
The three burnt bodies were found in the village of Tsa-Vedeno, in a burned car.
Police said the car, as well as three local homes in the village belonging to law-enforcement officials, had been burned by "a group of up to 10 armed men who had penetrated Tsa-Vedeno."
(AFP)