Large celebrations had been planned for today in Grozny, but were canceled at the last minute without explanation by the presidential administration, RFE/RL's North Caucasus Service reports.
Kadyrov, whom critics have accused of rampant rights abuses, was inaugurated on April 5 after the Chechen parliament approved his nomination by Russian President Vladimir Putin.
Islam In The North Caucasus
Islam In The North Caucasus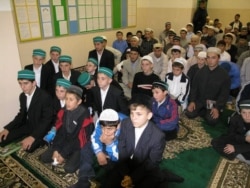 Madrasah students in Khasavyurt, Daghestan (RFE/RL file photo)
SIMMERING TENSIONS: Fatima Tlisova, former North Caucasus editor for the Regnum news agency and a former North Caucasus-based freelancer for RFE/RL, AP, and others, told an RFE/RL briefing that the Russian government is cracking down hard on mosques and Islamic organizations throughout the region.
LISTEN
Listen to the entire briefing (about 70 minutes):

Real Audio
Windows Media
RELATED ARTICLES
Filmmaker Documents Chechen Villagers' Sad Fate
Rights Activist Discusses Difficulties Of Working In Chechnya
Ministry Admits Chechen Resistance Still Poses 'Serious Threat'


RFE/RL's complete coverage of Russia's war-torn Republic of Chechnya.
CHRONOLOGY
An
annotated timeline
of the Chechnya conflict.