In one ruling, the court awarded damages to relatives of 11 civilians killed in the Grozny suburb of Novye Aldy during a February 2000 Russian military operation that killed at least 60 people.
The court also awarded damages to relatives of two civilians killed by Russian forces in the Chechen village of Gekhi in August 2000.
In June, a military court in southern Russia sentenced four soldiers to sentences of between nine and 14 years in prison for killing six civilians in Chechnya. The case was seen as a test of Moscow's willingness to acknowledge atrocities by federal troops.

Forgotten Chechnya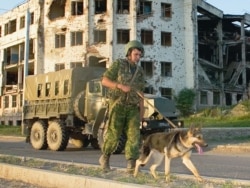 A Russian sapper searches a Grozny street for improvised explosive devices in June 2006 (TASS)
THE CRYING SUN: RFE/RL and the American Committee for Peace in the Caucasus recently hosted a screening of the film "The Crying Sun: The Impact Of War In The Mountains Of Chechnya." The filmmaker and activists discussed the making of the film and their work in Chechnya at the briefing.
LISTEN
Listen to the entire briefing (about 70 minutes):

Real Audio
Windows Media
RELATED ARTICLES
Chechen President Chooses A Cabinet Of Close Friends
Rights Activist Discusses Difficulties Of Working In Chechnya
Russian Ministry Admits Chechen Resistance Still Poses 'Serious Threat'
Chechnya Cell-Phone Videos Reveal Abuses


RFE/RL's complete coverage of Russia's war-torn Republic of Chechnya.
CHRONOLOGY
An annotated timeline of the Chechnya conflict.