Rice Says Iraqi Government Must Do More For Unity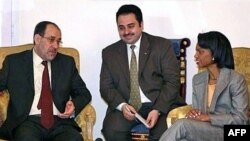 Iraqi Prime Minister Nuri al-Maliki (left) meeting with Rice in Egypt in May (AFP) August 5, 2007 -- U.S. Secretary of State Condoleezza Rice today urged Iraqi political leaders to "work harder" on national unity.
Rice said on U.S. Fox News television that Washington had made "very clear" that it did not think they have achieved enough in terms of ending sectarian divisions.
Her comments come just days after the largest Sunni bloc in the Shi'a-dominated government announced it would leave the cabinet.
(AFP)