As al-Maliki arrived in Ankara, Turkish media noted the death of yet another Turkish soldier in the country's southeast.
For weeks, an estimated 140,000 Turkish troops have been poised on the border, ready to launch a full-scale incursion against the militants -- if given the order.
Frank Discussions
After bilateral talks on August 7, Turkish Prime Minister Recep Tayyip Erdogan said his country and Iraq have agreed to work together to end the presence of a Kurdish rebel group in Iraq.
At a news conference together with Iraqi Prime Minister Nuri al-Maliki, Erdogan said the two sides "have reached an agreement to spend all efforts to end the presence of the Kurdistan Workers Party or PKK in Iraq."
Ankara has also expressed concern about the actions of the autonomous Kurdish administration in northern Iraq, whom some Turkish generals accuse of giving safe haven to the militants.
The Iraqi authorities have repeatedly denied helping the militants -- a point al-Maliki made again as he arrived in Ankara.
But they also noted that with all of the problems they are facing in other parts of Iraq -- including a full-scale insurgency in some provinces -- they can hardly afford to go after Kurdish militants now.
On a more positive note, Turkish Energy Minister Hilmi Guler told reporters after meeting with al-Maliki that the two sides have agreed to to expand energy cooperation.
Diminishing Support At Home
Al-Maliki faces major political problems as his governing coalition continues to unravel.
On August 6, five more ministers suspended their participation in cabinet meetings, accusing al-Maliki of fostering sectarianism. The five are members of the secular Iraqiya coalition, led by former Prime Minister Iyad Allawi -- a secular Shi'ite.
Nearly half of the Iraqi cabinet has now suspended its participation in the government. Just last week, the major Sunni bloc in parliament, the Iraqi Accordance Front, announced the withdrawal of its six ministers from the cabinet, accusing the government of "arrogance."
The growing problems and pressures facing al-Maliki have raised questions about his ability to govern.
Officially, Washington retains full confidence in his leadership ability, as State Department spokesman Sean McCormack told a briefing on August 6.
"He is the person that was elected by the Iraqi people and it was decided upon among the leadership of the various political factions that he would be the prime minister," McCormack said. "So it's not for the United States to choose the Prime Minister for Iraq. He was freely elected."

McCormack added that U.S. President George W. Bush and the U.S. ambassador to Iraq, Ryan Crocker, work closely with al-Maliki and his allies.
But freely elected or not, al-Maliki finds himself in an unenviable position. He has little maneuvering room left and his list of adversaries keeps growing.
It was left to President Jalal Talabani -- after the latest cabinet defection -- to shuttle between Shi'ite and Sunni leaders, in an attempt to keep the government together.
Whether those efforts will yield any progress remains unclear.
(with material from agency reports)

Searching For A Way Forward
Searching For A Way Forward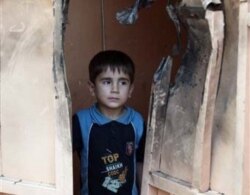 A boy looks out from his Baghdad home (AFP)
LOOKING BEYOND AL-MALIKI: RFE/RL Iraq analyst Kathleen Ridolfo led an RFE/RL briefing about the changing political landscape in Iraq, focusing on efforts to gain the upper hand in the event that the government of Prime Minister Nuri al-Maliki falls.
LISTEN
Listen to the entire briefing (about 70 minutes):

Real Audio
Windows Media
RELATED ARTICLES
Opposition Appears Set On Bringing Down Al-Maliki
Former Premier Pushing New Plan For Reconciliation
Al-Sadr Prepares For Post-Coalition Era
Sunni Ultimatum Rocks Al-Maliki's Position


THE COMPLETE STORY: RFE/RL's complete coverage of events in Iraq and that country's ongoing transition.