Kadyrov was due to meet with the Saudi king on August 14. He is also planning to visit Mecca and perform the "umra" or little pilgrimage.
Chechnya's chief mufti, Sultan-hadji Mirzayev, is accompanying Kadyrov on the visit.
(Interfax)

The Chechnya Conflict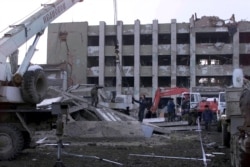 The aftermath of a December 2002 Chechen resistance attack on the main government building in Grozny (epa)


CHRONOLOGY
The
fighting in Chechnya
has raged, with short breaks, since 1994. It has brought misery, death, and destruction to the North Caucasus republic and to Russia as a whole. View an
annotated timeline
of the conflict.

ARCHIVE
RFE/RL's complete coverage of Russia's war-torn Republic of Chechnya.