Members of the U.S. Commission on International Religious Freedom held talks with Berdymukhammedov on August 20 at a meeting that was broadcast on state television.
The delegates welcomed the pardon issued on August 9 for prisoners including a prominent ethnic-Uzbek cleric, Nasrullah ibn Ibadullah, who served as the chief mufti of Turkmenistan from 1996-2003.
Ibadullah is thought to have been imprisoned for dissent. He is reported to have objected to former President Saparmurat Niyazov's insistence that passages from his book, "Rukhnama," be used during Muslim religious services.
Ibadullah also reportedly angered Niyazov with his opposition to death sentences issued after secret trials of suspects accused of involvement in an alleged assassination attempt on Niyazov in 2002.
Violations Of Religious Freedom
In a report released earlier this year, the U.S. Commission on International Religious Freedom accused Turkmenistan of continued "systematic and egregious violations of freedom of religion or belief."
Human rights groups and nongovernmental organizations have also expressed concern about the repression of religion in Turkmenistan.
Felix Corley, an editor of Forum 18, a Norwegian-based news agency that focuses on religious issues in the former Soviet Union and Eastern Europe, told RFE/RL's Turkmen Service that "religious freedom does not exist in Turkmenistan."
"The government controls the Islamic faith from inside -- it's become a branch of the government and is prevented from expanding its activities as many Muslims there would like," Corley said. "All other faiths are controlled from the outside -- through the security police and through the law-enforcement agencies. They are highly restricted in the activities they can undertake."
(with material from agency reports)

Islam And Politics In Central Asia
Islam And Politics In Central Asia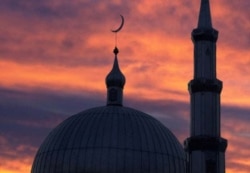 The Khodji Mashrab Mosque in Dushanbe (TASS file photo)
ACTIVISTS AND AUTOCRATS: Eric McGlinchey, assistant professor of government and politics at George Mason University, told an RFE/RL briefing that Islam-centered political movements present the most coherent challenge to autocratic governments in Central Asia.
LISTEN
Listen to the entire briefing (about 60 minutes):

Real Audio
Windows Media
RELATED ARTICLES
Central Asian Security Services Take On Religious Dissent
Family, Followers Reject 'Terrorist' Claims Against Slain Cleric
Hizb Ut-Tahrir's Calls For Islamic State Find Support
Imam Extends Welcome To Hizb Ut-Tahrir

A thematic webpage devoted to issues of religious tolerance in RFE/RL's broadcast region and around the globe.