Iraqi Premier Says Security Forces Now In Control Of Karbala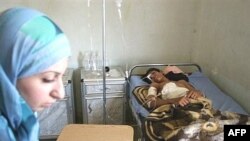 A pilgrim wounded in the Karbala clashes (AFP) August 29, 2007 -- Iraqi Prime Minister Nuri al-Maliki says security forces have taken control of the city of Karbala where gunbattles during a major Shi'ite religious festival killed at least 52 people.
Al-Maliki, who was in Karbala today to inspect the situation, blamed "outlawed criminal gangs from the remnants of Saddam Hussein's regime" for the August 28 violence among rival Shi'ite militias and police
The battles appeared to pit followers of radical Shi'ite cleric Muqtada al-Sadr and the rival Supreme Iraqi Islamic Council, which controls much of the police in the south.
Hundreds of thousands of pilgrims have fled Karbala where an indefinite curfew has been imposed.
Authorities say extra security forces have been sent to the area.
(compiled from agency reports)

SUBSCRIBE For weekly news and analysis on Iraq by e-mail,
subscribe to "RFE/RL Iraq Report."