The Education Ministry last year enforced a ban on the Islamic hijab, or head scarf, at schools and universities in the predominantly Muslim country.
But this year's policy goes further, forcing all female students to wear a white blouse and black skirt -- or an "atlas," a specific type of Tajik national dress. All male students must wear a white shirt and dark pants.
Tajikistan is the poorest of Central Asia's former Soviet republics, and many parents have complained about being forced to spend the $20-$30 that shops charge for a complete uniform.
RFE/RL's Tajik Service spoke to Dushanbe resident Sayora Murodova at a market while she did some last-minute shopping for her kids.
"I have to buy the uniforms because the kids have to wear them to school. But I think they are more expensive than before. A shirt alone costs $6. I would demand that they reduce the prices. I have three kids. With today's high prices, I don't know what to do first: to buy food for the kids or clothes," Murodova said.
Tajik authorities have recently sought to suppress overt expressions of religion in many aspects of public life.
Girls from conservative religious backgrounds will be allowed to wear small, matching scarves. But they are forbidden from tying them under their chins in the strict Islamic style.
The Education Ministry announced that an alternative, more conservative uniform would be allowed for girls whose families insist on it.
But an RFE/RL correspondent reports that the more modest uniform was nowhere to be seen in markets or shops in the capital, Dushanbe.

Education And Islam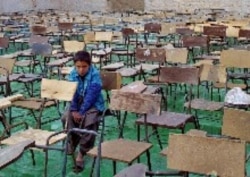 An Afghan child prepares for the first day of school(epa file photo)
KEEPING KIDS IN SCHOOL.
Education raises many vexing social issues in impoverished and predominantly Muslim countries like Afghanistan and the countries of Central Asia. In these countries, many students fail to complete their education for reasons ranging from poverty to discrimination.
"One of the main problems is the distance between the child's home and the nearest school building. This is particularly a problem for adolescent girls because families quite understandably don't feel comfortable allowing the girls to walk long distances unaccompanied to the classrooms," says a UN aid worker in Afghanistan
...(more).
See also:
The Role Of Religion In Classrooms
Madrasahs Reject Government Crackdown Efforts
Madrasahs Lead Religious Teaching Revival

UN Report Finds World's Children 'Excluded And Invisible'