Ahmad Zia Mas'ud made the call in a commentary in Britain's "Sunday Telegraph" newspaper.
He said poppies have spread like "cancer" in Helmand Province, where British forces are based.
The United Nations said last week that there has been a 17 percent increase this year in the amount of Afghan land used for growing opium poppies.
Taliban Site Hit
The U.S.-led coalition in Afghanistan says Afghan and international forces have destroyed a Taliban headquarters southwest of Kandahar city, killing some 25 militants.
The site was believed to have provided a base for frequent attacks on a highway that links Kandahar with the western city of Herat.
The coalition said the operation was based on intelligence reports that insurgents were trying to regain control after being defeated there last year.
On September 1, the coalition reported that some 70 Taliban militants had been killed in three separate clashes in Helmand, Nuristan, and Ghazni provinces.
(AP, Reuters)
Afghanistan's Opium Problem
Afghanistan's Opium Problem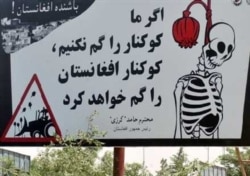 An antidrug billboard in Kabul shows a skeleton hanging from an opium bulb (AFP)
OPIUM FARMING ON THE RISE Despite a nationwide program by the Afghan government to eradicate opium-poppy fields and offer farmers alternative crops, international experts say that the 2006 opium crop was as much as 50 percent larger than the previous year's record crop. Afghanistan also accounted for practically all of the world's illegal opium production.(more)
RELATED ARTICLES
NATO Struggles With Security, Rebuilding In Southern Province
UN Antidrug Chief Wants NATO To Destroy Opium
Saffron Could Help Wean Farmers Off Opium Poppies
Poppy-Eradication Drive Launched In Western Province
Insurgency Gains Ground As Poppy-Eradication Efforts Struggle
SUBSCRIBE
For weekly news and analysis on Afghanistan by e-mail,
subscribe to "RFE/RL Afghanistan Report."