Portuguese Foreign Minister Luis Amado, the host of the meeting, said the European Union must seize the initiative on a key problem in its own backyard.
"I cannot conceive that we can, at the end of this process, have a situation where you have a strong position of Russia, a strong position of the United States and the European Union simply doesn't exist," Amado told a a news conference in Viana do Castelo, northern Portugal.
The ministers heard a report from Wolfgang Ischinger, the EU representative who is working with officials from the United States and Russia to resolve the Kosovo issue.
The United States has warned that it would unilaterally recognize Kosovo's independence in case the region's leaders decide to proclaim it, while Russia has firmly backed Serbia's opposition to Kosovo's independence.
EU: Different Interests, Different Opinions
"Slovakia and Romania are concerned that this [Ahtisaari plan] sets a precedent for some of their ethnic Hungarians. Spain has similar concerns regarding the Basques or Catalans." -- Patrick Moore
French Foreign Minister Bernard Kouchner underlined that Kosovo is "a European problem, not an American problem, not a Russian problem" but he acknowledged that EU unity was not yet assured.
"For some of the countries involved, there are some very different interests on the table," says RFE/RL Balkan analyst Patrick Moore. "For example, you have a tendency in some countries, such as Britain, and in some elements of the German government, to agree with the United States that the plan of [UN mediator] Martti Ahtisaari has to be moved forward, and that means conditional, supervised independence."
Kosovo officially remains a Serbian province, but since a NATO bombing campaign drove Serb forces from the region in 1999 it has remained under UN administration. Ahtisaari's attempts to get Serbia and Kosovo Albanians to agree on a supervised independence have failed.
The government of Kosovo, where the vast majority of the population are ethnic Albanians, has stated it will declare independence if negotiations fail. Those negotiations are due to end on December 10. Serbia has repeatedly said it would not accept an independent Kosovo and Belgrade is supported in this view by UN Security Council member Russia.
EU envoy Ischinger has said the Ahtisaari plan to set Kosovo on the road to independence with security guarantees for the provinces minority Serbs remained on the table.
Hidden Fears Prevent Common Stance
RFE/RL's Moore said Serbia has support from some EU countries who fear Kosovo's independence would set a precedent for ethnic minorities in their own countries.
"Slovakia and Romania are concerned that this [Ahtisaari plan] sets a precedent for some of their ethnic Hungarians," Moore explains. "Spain has similar concerns regarding the Basques or Catalans. And then you have a blackmail factor in that Hungary is concerned about the fate of the large Hungarian minority in Serbia, and Romania traditionally has very good relations with Serbia. Serbia also has traditional allies in Greece and among the Greeks of Cyprus. So it won't be too easy to form a consensus."
Officials from Serbia and Kosovo are scheduled to meet again on September 28, but international mediators have already been meeting with both sides and report little or no progress in the discussions.
Hasty Compromise Harmful
In the meantime, it was unclear and even doubtful that EU ministers meeting in Portugal would reach any solution to the Kosovo problem that would be acceptable to all parties involved.
RFE/RL's Moore said that could lead to some sort of hastily arranged compromise, but he noted that could be the worst solution of all. "There is a tendency in the EU culture to go for fudges or to allow drift to take place, and as a result, nothing really gets done. A number of key figures on the international stage have warned precisely against drift. Ahtisaari himself said recently that doing nothing is not an option. Unless the political situation is clarified, there is going to be continuing instability, and that's what the whole Ahtisaari plan is aimed at preventing," Moore concluded.
The EU ministers today did agree to resume direct financial aid to the Palestinian government of President Mahmud Abbas, but did not even include the topic of Iran's nuclear development program due to the large number of issues already on the agenda for this weekend's meeting.
Final Status For Kosovo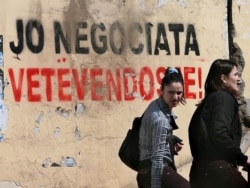 Pro-independence graffiti in Prishtina (epa)

FINALLY STATUS? Sabine Freizer, director of the Crisis Group's Europe Program, told an RFE/RL briefing that deep divisions in the UN Security Council make it uncertain what form Kosovo's future status might take.
LISTEN
Listen to the entire briefing (about 70 minutes):

Real Audio
Windows Media
ARCHIVE
RFE/RL's coverage of
Kosovo
. The website of
RFE/RL's South Slavic and Albanian Language Service
.