Putin Accepts Government's Resignation, Nominates Zubkov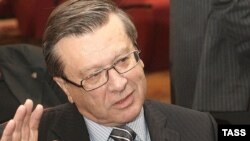 Viktor Zubkov is Putin's surprise nominee for Russia's next prime minister (ITAR-TASS) MOSCOW, September 12, 2007 (RFE/RL) -- When Mikhail Fradkov stepped down today as Russian prime minister, many Russia-watchers were certain of one thing: Sergei Ivanov, a close Putin ally and presidential front-runner, was likely to be nominated for the prime minister's job.
So it came as a surprise to many when Duma Speaker Boris Gryzlov told journalists in Moscow today that the Russian president had asked the lower house of parliament to approve a different nominee.
"[The nominee for prime minister] is Viktor Alekseyevich Zubkov," Gryzlov said. "Today, he is the head of the Russian Financial Monitoring [Service]. He has had a long and experienced life. He has devoted 30 years of his professional activity to Leningrad Oblast [eds: the St. Petersburg region]."
It was in the Leningrad Oblast, in the early 1990s, where Zubkov worked under Putin in the St. Petersburg city administration.
'Approaching Significant Events'
At a meeting at the Kremlin with Putin today, Fradkov said he was resigning because of "approaching significant political events in the country." "I think it would be right on my part to take the initiative to vacate the position of the chairman of the government so you don't have any constraints in making decisions about building the configuration of power with respect to the upcoming political events," he said.
"There is just half a year left until the presidential election, and that's long enough on the one hand to make the new candidate popular, to show him to people, to demonstrate how well he works." -- Yevgeny Volk, Heritage Foundation
Those "upcoming events" are the parliamentary elections in December and the presidential election in March next year.
At the Kremlin, Putin welcomed Fradkov's move.
"Perhaps we should all think together how to build a structure of power and governance that better corresponds to the preelection period and prepares the country for the period after the [December 2007] parliamentary elections and the March 2008 presidential election," Putin said.
For now, Fradkov is expected to continue in his role on an acting basis until a replacement is appointed by the Duma.
Caretaker Role?
Yevgeny Volk, the director of the Heritage Foundation, is not surprised by Fradkov's resignation.
"Rumors of Fradkov's resignation began the very day he was appointed," Volk tells RFE/RL. "If you remember, his appointment was unexpected, everyone called him the stand-in prime minister, a man who would never play much of a political role, but would more likely be a pawn for Putin in the Kremlin hierarchy."
It is unclear whether Zubkov, like Fradkov, is expected to take a caretaker's role -- or whether this is the Kremlin's way of introducing a dark-horse candidate. Volk believes the field is still open.
"Who will be his successor? That's for Putin to decide," Volk said. "It could be [First Deputy Prime Minister] Sergei Ivanov, it could be [First Deputy Prime Minister] Dmitry Medvedev, it could even be the head of Russia's railways [Vladimir] Yakunin. But I think that whoever it is, this is a signal that the president is making his choice. There is just half a year left until the presidential election, and that's long enough on the one hand to make the new candidate popular, to show him to people, to demonstrate how well he works. And on the other hand in that amount of time, if the economic climate remains good, it is unlikely he will make mistakes big enough to sully his reputation."
It might or might not be an indicator, but there is a historical parallel. In 1999, several months before coming president, then President Boris Yeltsin appointed Putin as his prime minister.

SUBSCRIBE For news and analysis on Russia by e-mail,
subscribe to "RFE/RL Russia Report."