Alisher Saipov, an ethnic Uzbek whose reports frequently criticized the authorities in neighboring Uzbekistan, was gunned down in southern Kyrgyzstan on October 24.
Vitalii Ponomarev of the Russian-based rights group Memorial today alleged that Uzbekistan's intelligence agency had disclosed to its Kyrgyz counterpart that Saipov was murdered for political reasons.
"There is no doubt that [Saipov's murder] is connected to the presidential election in Uzbekistan," Ponomarev told a news conference in the Kyrgyz capital, Bishkek. "And, by the way, now we have information from certain sources -- on an unofficial level -- that the Kyrgyz special services have received from their Uzbek colleagues information that this [killing] was politically motivated."
Ponomarev went on to claim that Kyrgyz investigators had since stalled their probe into the case.
"Now that it has become unambiguously clear that there is another version, the investigation is no longer so intensive and no one wants to bring this version to a logical end," he said.
In reply, Kyrgyz Interior Ministry spokesman Bakyt Seyitov told RFE/RL that Ponomarev must produce proof to sustain his accusations. "Sooner or later, Mr. [Vitalii] Ponomarev has to have a responsible stance regarding his words that Uzbekistan's special services murdered [Alisher Saipov] in connection with the [upcoming presidential] elections [in Uzbekistan]," said Seyitov. "It is hard to talk about such allegations without producing proof, for example, paper documents or electronic documents or records of the telephone conversations and such. That is why, for now, I cannot support his allegations, because this issue needs checking and proof."
Last month (October 30), the Kyrgyz Interior Ministry had said that the investigation into Saipov's murder uncovered "close ties" to the banned Islamist group Hizb ut-Tahrir and the exiled leader of Uzbekistan's Erk opposition party, Muhammad Solih. It also said Saipov had "regularly" received money from the leader of the militant Islamic Movement of Uzbekistan (IMU), which a number of governments regard as a terrorist group.
Friends and colleagues suspect that Saipov was killed in response to numerous articles criticizing Uzbekistan's ruling administration and a popularity that extended beyond Kyrgyzstan to Uzbekistan.
The journalist had told acquaintances that he thought he was being followed by Uzbek secret service agents.
Saipov was an editor of the "Siyosat" (Politics) newspaper, and a Voice of America correspondent and contributor to RFE/RL.
Uzbek President Islam Karimov is seeking seven more years in office in the December 23 election. His tight grip on media and other institutions makes his reelection all but certain.
The Erosion Of CIS Press Freedom
The Erosion Of CIS Press Freedom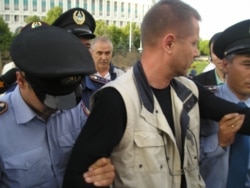 Prominent Kazakh journalist Sergei Duvanov being arrested in Almaty last month (RFE/RL)
FROM BAD TO WORSE. RFE/RL and Freedom House experts held a panel discussion at which they analyzed the erosion of press freedom in many CIS countries. According to Freedom House rankings, in 1994, six of the 12 CIS countries were rated "partly free"; by 2004, 11 of the 12 were rated "not free."
LISTEN
Listen to the entire briefing (about 70 minutes):

Real Audio
Windows Media
SUBSCRIBE
For regular news and analysis on media issues throughout RFE/RL's broadcast area by e-mail,
subscribe to "RFE/RL Media Matters."