By Elham Ahmadi, Tehran
At 7 a.m., I awake to neighbors shouting. A husband and wife are at it again, but this time the conversation is about neither the man's inability to find a suitable job (he has a degree in electrical engineering from Sharif University) nor the wife's resistance to having babies (because she thinks that bringing another life into a mad world of fundamentalism is a crime). It's about politics.
"What is a fundamentalist-reformer?!" cries the wife, referring to Musavi. "It's a lie, a sensationalism, a choreographed scheme, playing with colors.... Why can't you understand?" the woman goes on screaming and yelling. The sound of breaking dishes ensues.
"Musavi is our president! Everyone else should get out of the way!" comes the response, as our neighbors start hissing at the quarreling couple.
"Why are you fighting each other?! The real enemy is someone else," whispers another neighbor, whose voice is hoarse from the previous night's "God is great" chanting on the rooftops.
Not a good alarm clock!
7:30 a.m.
"Ah, the Russians," my mother says over the phone in an effort to rouse me from my sleep. "They've taken all this money, haven't started any part of the Bushehr nuclear plant, and now Mr. Ahmadinejad goes there and gets his prize of cheating in the election."
She adds a little motherly advice: "Why don't you reformists go and demonstrate in front of the Russian Embassy?"
I respond that it's 7:30 in the morning and, for God's sake, I'm sure the Russians will get what they deserve in due time. But at least I'm moving lazily out of bed now.
Both reform candidates, Musavi and Karrubi, have announced that today is a day of mourning. "Maybe we're a nation of mourners," I think, sighing.
Martyrs are part of our society and social fabric, from the "Shahnameh" characters Iraj and Siavash (a book written a millennium ago by the great poet Ferdowsi, who describes our history and culture through characters, tragedies, and stories of wars and peace) to Imam Husayn, the grandson of the Prophet Mohammad (peace be upon Him) and the most charismatic figure in Shi'a Islam, who was killed while fighting the forces of evil.
Now we have new martyrs. People who were killed in the June 15 demonstration on Azadi Square. But they're not the only ones.
Communication, too, has been greatly severed beginning on the eve of the election. For a week now, we have not have any SMS communication, which is arguably the best communication tool for reformers and election rally organizers. Yahoo Messenger and Google Talk have been disabled.
I check my e-mails using a proxy server with an extremely low connection speed while having my breakfast and answering phone calls from friends. They're all worried about me, since all mobile communications have been cut since 5:30 p.m. the previous day.
"Your tongue and hair are the same color, and your head is busted," says Jaleh, a play on a Persian proverb that warns "a red tongue can give away a green head."
11:00 a.m.
"Where?! How?! Who said?" I'm asking over the mobile phone on my way downtown, in an attempt to get as much information as I can from a friend who is a Musavi supporter. "Where do we go to mourn for the martyrs? Why don't the reformers have an organized information system to let us know what, where, and when things are happening?"
The fear that all of this will be gone by next week and confusion about the fact that I may lose my job, go to jail, and then get prosecuted while still trying to figure out what is going on sends a shiver down my spine. Word of mouth, occasional e-mails, Facebook (when we can get a connection and a proxy server) and foreign media are the only ways to get information.
Interestingly enough, BBC's Persian television service has been off since the election. VOA's Persian television appears and disappears, as does Radio Farda, which you can listen to via Internet if you are lucky enough to be connected at the right time.
My Mom complains that "this bastard BBC used to announce all official demonstration routes before the 1979 revolution, now they can't even manage one simple thing, they can't even stop the Iranian government from interfering with their broadcast."
2 p.m., in front of the UN offices in Darrus, north of Tehran
Jaleh, Maryam, and I meet and take off the green or white colors and replaced them with black. We have martyrs and their deaths were televised.
I start humming the tune of Roger Waters' "Yellow Rose": In Azadi (Tiananmen) Square, lost my baby there, my green and white (yellow) rose, with his blood-stained clothes..."
Again we faced the guards and tried our best to charm them. About seven out of every 10 smile back; the rest look at us with an empty void in their eyes.
"Do you speak Persian?" I ask. A pregnant silence is the only reply.
The ranks of protesters grow by the minute and the green parade dominates the scene. We move toward Haft-e Tir Square at 3:30 p.m.
4 p.m., Ferdowsi Square in downtown Tehran
We park our car somewhere between Haft-e Tir Square and Ferdowsi Square and take a bus downtown. We see Musavi and Karrubi supporters, as well as anarchists and anyone who wants Ahmadinejad and his ideology to leave.
On the bus, someone distributes Karrubi's latest statement, and for once I see people actually reading it. That is a change in itself.
The bus stops just past the square and streams of people trickle into a sea of silent protesters on Imam Khomeini Square and another epic movement begins. The peaceful ocean of protesters moves north back toward Ferdowsi Square.
"Salavat" (a call in praise of the Prophet Muhammad) cries one man, and several people respond before a long "hissssssss" comes from somewhere else.
As we approach Ferdowsi Square, peacefully, around 6 p.m., there is a sudden jolt. Musavi and his wife, Mrs. Zahra Rahnavard, appear on the roof of a car.
My friend Jaleh yells excitingly, "Look at Ferdowsi's statue!" We all look up and there's a green cloth draped on Ferdowsi's arm, like an armband. The rolling thunders of black and green turn West and move toward Enghelaab Square and another monumental and heroic march forms.
But the lack of organization and planning is evident. No one knows what to do, where to go next, or what to say. Maryam is agitated. "What type of mourning is this? Where is the plan? Where is the mourning ceremony? Where are the pictures of the martyrs?" she asks impatiently.
8 p.m.
The ceremonial honking of car horns.
10 p.m.
"God is great" rises from the rooftops before street fights and an endless spiral of events that leads to destinations unknown.
Elham Ahmadi is pseudonym for a journalist in the Iranian capital, Tehran, who contributed this piece to RFE/RL's Radio Farda
Iran Election Special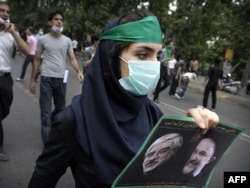 RFE/RL's Full Coverage
Following the disputed reelection of Iranian President Mahmud Ahmadinejad, supporters of Mir Hossein Musavi have taken to the streets to protest.
Click here
for news, blogs, and analysis of the presidential election and aftermath.