UN Secretary-General Ban Ki-moon has urged an end to arrests, threats, and use of force against civilians in Iran following the country's disputed presidential election.
His statement comes after security forces in Tehran again cracked down on about 200 protesters paying tribute to a woman whose apparent shooting death was filmed and circulated around the world.
Opposition supporters gathered, briefly, in downtown Tehran on June 22 in the latest protest, but within about an hour, police intervened, firing tear gas and dispersing protesters, witnesses say.
The rally followed a
bloody weekend
that saw at least 10 people killed in Tehran in clashes with security forces, on top of some 12 others who died in previous violence.
The short-lived protest came despite a warning from the country's Revolutionary Guards -- a force seen as the most loyal guardians of the ruling clerical establishment -- that they would crack down on any fresh protests.
The main presidential challenger,
Mir Hossein Musavi
, had called on supporters to keep up the protests over the June 12 election, which he says was rigged in favor of the incumbent, Mahmud Ahmadinejad.
'Fallen Angel Of Freedom'
The gathering was also meant as a show of sympathy and solidarity with "Neda," a young woman reportedly killed after being hit by a bullet during the June 20 crackdown by police and militia members.
Graphic footage
apparently showing her bleeding to death has been widely circulated on the Internet. One Internet message described her as the "fallen angel of freedom."
But authorities have blamed the unrest on "terrorists" and rioters.
And on June 22, Foreign Ministry spokesman Hassan Qashqavi pointed a finger of blame at the West, saying "most of the European countries and America, instead of encouraging people to use democratic means and instead of expressing regard for lawful means in their statements, generally supported the side of the rebels and opportunists."
The charge is rejected by Western governments.
Britain's Foreign Secretary David Miliband said any attempt to turn an election dispute among Iranians into a "battle between Iran and other countries" is without foundation.
Instead, Western governments have sought to put the onus on Iran's authorities -- to allow people to exercise their constitutional right to protest peacefully, and to ensure a fair election result.
Evacuations
In a sign of heightening tensions, Britain has advised its citizens against all nonessential travel to Iran and says it is evacuating the families of foreign office staff based there.
In Rome, the Italian Foreign Ministry says it is ready to open its embassy in Tehran to any wounded protesters.
And in Prague, the Czech EU Presidency has asked members to consider summoning Iranian envoys to express "deep revulsion" over the violence.
With authorities cracking down on demonstrations, RFE/RL's Radio Farda reports that people are becoming more creative in their protests.
In a tribute to those killed in the unrest, Musavi supporters suggested motorists turn on their headlights for at least one hour on June 22.
Iran Election Special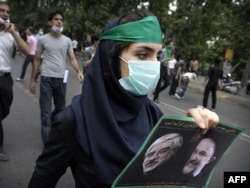 RFE/RL's Full Coverage
Following the disputed reelection of Iranian President Mahmud Ahmadinejad, supporters of Mir Hossein Musavi have taken to the streets to protest.
Click here
for news, blogs, and analysis of the presidential election and aftermath.
Iran Election Diary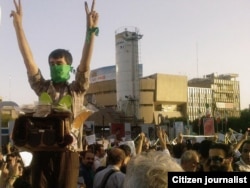 Disputed Presidential Vote
There have been protests and clashes with police on the streets of Tehran following the disputed reelection of Mahmud Ahmadinejad. RFE/RL collects videos, photos, and messages on social-networking sites coming out of Iran to attempt to get a picture of what is happening inside the country.
Click here