A woman named Neda has become an icon of the ongoing antigovernment protests in Iran.
Millions of people in Iran and throughout the world have now seen a graphic
amateur video
of Neda's apparent death on a street in central Tehran, after having been shot in the chest while attending one of the rallies with her father.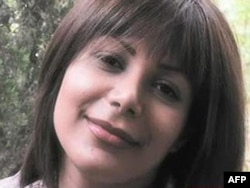 Neda Agha Soltan, who was reportedly killed when hit by a bullet during a protest in Tehran on June 20.
Some in Iran are calling for June 20, the day of the violent crackdown on protesters that was apparently Neda's last, to become known as "Neda's Day." Neda mean "voice" in Persian.
Neda was reportedly
buried
hastily in Tehran's Behesht Zahra cemetery on June 21. According to unconfirmed reports, authorities banned a mourning ceremony for her at a mosque in the capital today.
The tragic images have served as a reminder of the prominent roles that thousands of women from all walks of life are playing in the protests against Iran's recent presidential election, which they believe was rigged.
'Take To The Streets'
Indeed, it was a woman, Effat Hashemi, the wife of former Iranian President Akbar Hashemi Rafsanjani, who was among the first to call for public protests in the event of fraud.
Her call was
captured in a video
, released early last week, that shows her speaking to reporters after casting her ballot on June 12.
Reporter: "What is your advice to the supporters of the candidates after election day?"
Hashemi: "They must take to the streets if there is fraud."
It's not clear if Hashemi participated in any of the protests, but her daughter, Faezeh Hashemi, did -- and was briefly detained for her actions.
Yasaman, a 42-year old housewife, isn't famous, but she, too, participated in the rallies. She tells RFE/RL that she is now sitting at home, expecting to be detained.
"They're coming for everyone, one by one," she says.
She laughs and says she's not scared.
Yasaman and many other Iranian women say they voted for Mir Hossein Musavi or fellow reformist Mehdi Karrubi because they were hoping for change. Both of the presidential candidates addressed women's issues in their campaigns and both promised more rights to Iranian women.
Wife Also Campaigned
Musavi appeared at campaign rallies with his wife, Zahra Rahnavard, a former university chancellor and an adviser to former President Mohammad Khatami. Rahnavard had actively participated in the campaign by giving speeches, interviews, and writing articles. In the last week, she has reportedly met twice with students and told them that Musavi will not give up his defense of people's rights.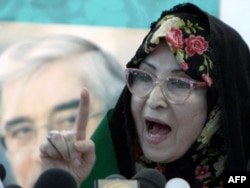 Zahra Rahnavard, wife of Mir Hossein Musavi, at a press conference in Tehran before the vote
Iranian President Mahmud Ahmadinejad also pledged to grant women more rights and is said to have had some support among women. One of Ahamdinejad's staunchest supporters is Fatemeh Rajabi, a hard-line female journalist and wife of government spokesman Fatemeh Rajabi.
Yet a number of women told RFE/RL that they cast their ballot on June 12 just to say "no" to Ahmadinejad, whom they described as being "antiwoman" and "antifreedom."
Prominent Tehran-based women's-rights activist Nasrin Sotoudeh tells RFE/RL that she believes women have many good reasons to protest against Ahmadinejad's reelection.
"In the past four years, not only women's gatherings came under attack," Sotoudeh says. "[Many women] were repeatedly summoned by the judiciary and put on trial. They faced long jail terms, but they also faced serious problems because of their appearance and they were constantly attacked and beaten up."
During last week's demonstrations in Tehran and other cities, women of all ages and segments of society were seen at the forefront of the protests. Some were holding banners; chanting slogans; defying police. Some were seen beating back Basij militia and plainclothes agents who were attacking protestors with sticks.
A
video of a young Iranian girl
kicking a member of the riot police was making the rounds.
In one picture of the recent unrest, a woman in chador is seen running to protect a man who is being beaten by baton-wielding security forces.
Active Roles
Zahra Gholamipour, the leader of Iran's Pan-Iranist party, tells RFE/RL that women in Iran have always played an active role in society, despite the discrimination they face.
"Iranian woman are not the type of women who remain silent and consider themselves lesser than men -- even though, unfortunately, after the revolution, [women's rights] have been violated," she says. "Today, we see that women are ahead of men in these rightful protests."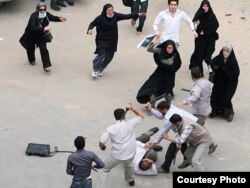 Angry Iranian women come to the aid of a man being beaten during recent election protests.
Gholamipour, who participated in some of last week's protests, says that during some rallies women outnumbered men.
Women in Iran face considerable legal discrimination. For example, they don't have equal rights in divorce and child custody, and they are not allowed to travel outside the country without the permission of their fathers or husbands.
But eyewitnesses say that when it came to the crackdown, security forces treated the protesters equally.
Women were beaten up -- brutally in some cases. And women are among the 23 or so reported so far killed in the postelection unrest.
"Iranian women showed again how strong they are," says Gholamipour. "Many times they were beaten up with electric sticks, but they would come back and [defy] the police. These women are mothers, they are sisters. These women feel responsible."
No matter what results from the current crisis, both Gholamipour and Sotoudeh believe that women, who make up about 65 percent of Iran's university students, will keep pushing for more rights.
Some have already come up with a new slogan: "Our Neda, Our Voice."
Iran Election Special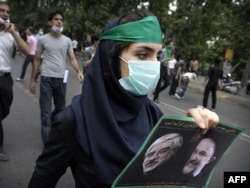 RFE/RL's Full Coverage
Following the disputed reelection of Iranian President Mahmud Ahmadinejad, supporters of Mir Hossein Musavi have taken to the streets to protest.
Click here
for news, blogs, and analysis of the presidential election and aftermath.
Iran Election Diary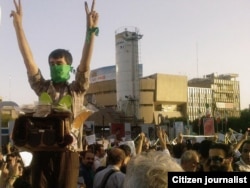 Disputed Presidential Vote
There have been protests and clashes with police on the streets of Tehran following the disputed reelection of Mahmud Ahmadinejad. RFE/RL collects videos, photos, and messages on social-networking sites coming out of Iran to attempt to get a picture of what is happening inside the country.
Click here