The Daily Vertical: Post-Truth On Trial (Transcript)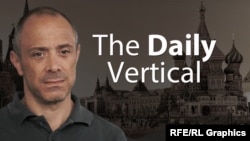 The views expressed in this commentary do not necessarily reflect the views of RFE/RL.
We're going to hear a lot more about the downing of Flight MH17.
We're going to hear a lot more about the killing of civilians in Mariupol and Kramatorsk.
We're going to hear a lot more about Russia financing, supporting, and arming separatists in the Donbas.
We're going to hear a lot more about terrorist attacks in Ukrainian cities.
And we're going to hear a lot more about repression and discrimination against the Crimean Tatars.
Ukraine may not win its lawsuit against Russia in the International Court of Justice, where it is accusing Moscow of violating UN conventions on discrimination and on financing terrorism.
Georgia failed in a similar effort after Russia invaded it in 2008.
And even if Ukraine wins its case, the court lacks effective enforcement mechanisms.
But the case is important nonetheless because it will shine a spotlight on Russia's war on Ukraine and its consequences.
And it is important because, unlike courts controlled by Vladimir Putin's regime, the International Court of Justice deals in facts.
And the facts in this case do not reflect well on Russia.
The International Court of Justice can now become the antithesis of Putin's post-truth propaganda machine.
The Russian Foreign Ministry has derided Ukraine's lawsuit as a PR stunt.
And in some ways, it actually is.
Because regardless of the result, it presents an opportunity to cut through all the Kremlin's spin, diversion, and disinformation in open court -- and to amplify the facts and the truth about the costs of Russia's three-year war in Ukraine.
Keep telling me what you think on The Power Vertical's Twitter feed and on our Facebook page.