IOC To Explore 'Legal Options' On Russia Olympic Ban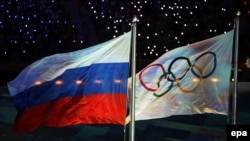 The International Olympic Committee (IOC) says it will study "legal options" on banning all Russian athletes from next month's Summer Olympics in Rio de Janeiro and that it has launched investigations into senior Russian sports officials in connection with allegations of state-sponsored doping.
The IOC said in a July 19 statement that it will weigh calls for a collective ban on Russian athletes from competing in Rio against "the right to individual justice."
The announcement followed a teleconference of the IOC's executive board to consider the next moves following the release a day earlier of a report by World Anti-Doping Agency (WADA) investigator Richard McLaren that detailed widespread doping allegations against Russia.
The report found that a pervasive "state-dictated" system allowed for cheating among athletes at the 2014 Sochi Winter Olympics and other events.
"The findings of the report show a shocking and unprecedented attack on the integrity of sports and on the Olympic Games. Therefore, the IOC will not hesitate to take the toughest sanctions available against any individual or organization implicated," IOC President Thomas Bach said in the July 19 statement.
The IOC added that its executive board would take into consideration a planned July 21 decision by the Switzerland-based Court of Arbitration for Sport (CAS) about the rules of the International Association of Athletics Federations (IAAF), as well as the Olympic Charter and the World Anti-Doping Code.
The IOC also said in its July 19 statement that it has set up a disciplinary commission to examine "officials within the Russian Ministry of Sports and other persons mentioned" in this week's WADA report.
President Vladimir Putin has said that Russian officials named in the WADA report would be temporarily suspended.
On July 18, Prime Minister Dmitry Medvedev suspended Deputy Sports Minister Yury Nagornykh, who the WADA report said was told about every positive drug test across all sports from 2011 onward, and that he decided "who would benefit from a cover-up and who would not be protected."
The IOC said in its July 19 statement that it had already taken provisional measures as it waits to decide whether to ban all Russian athletes from competing in Rio.
These include a refusal to grant accreditation to the Rio Games to "any official of the Russian Ministry of Sport or any person implicated" in the WADA report.
Sports Minister Vitaly Mutko is named more than 20 times in the WADA report, but a Putin spokesman said the Russian suspension would not apply to Mutko because he was not described as an "actual perpetrator."
On July 19, Mutko denied the existence of "state-sponsored doping" in the country, calling such a system "unrealistic," the Interfax news agency reported.
The WADA report, however, does accuse Mutko of being directly involved in shielding "at least one foreign" soccer player playing in Russia's top professional league from anti-doping scrutiny.
Mutko also serves as president of the Russian Football Association and as president of the organizing committee for the 2018 World Cup, which Russia is set to host.
With reporting by Reuters and AP