Afghanistan: Was Taliban Involved In Uzbek Violence?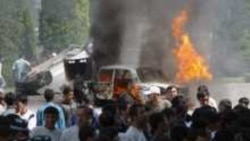 Aftermath of riots in Andijon, 14 May On 13 May, Uzbek security forces fired on demonstrators in the eastern city of Andijon, following attacks on a police station, military barracks, and prison. The government has said that 169 people were killed, including more than 50 foreign fighters, though opposition groups say as many as 750 people were killed. [For more on these events, see RFE/RL's dedicated webpage: Unrest in Uzbekistan --> /specials/uzbek_unrest/ ]
On 14 May, Interfax reported that according to information provided by "high-ranking sources" in the Russian Foreign Ministry, which was also confirmed by sources in "the Russian power-wielding agencies," prior to the uprising in Andijon a "large number of militants, comprising bandits, Islamist radicals, and Taliban fighters" infiltrated from Afghanistan and regrouped "at a junction between Kyrgyzstan, Uzbekistan, and Tajikistan."
The same day, Russian Foreign Minister Sergei Lavrov said that the events in Andijon were planned in advance with the participation of "different groups" from the Ferghana Valley region and from Afghanistan "from the Taliban camp."
On 15 May, Lavrov elaborated on his earlier statement, saying that "evidently" groups from the Taliban camp took part in the events in Uzbekistan. Turning to Afghan President Hamid Karzai's policy of offering amnesty to most members of the former Taliban regime except some 100 who have committed atrocities against the Afghan people, Lavrov said that if "we continue to condone terrorists and apply 'double standards' to them, including the notion of [the existence of] a moderate wing to the Taliban," then the "entire region" would be placed on the "brink of a crisis."
Lavrov's statement brings to the fore two separate issues. First, the ability of the neo-Taliban -- the resurgent militants in Afghanistan identifying themselves as the Taliban -- to infiltrate into Uzbekistan; and secondly, Moscow's disagreement with Kabul's policy of reconciling with the militants.
The Long Road To Andijon
There are several factors that cast doubt on the allegations made by Lavrov about the presence of the neo-Taliban in Uzbekistan. Geographically, for neo-Taliban fighters to cross over directly from Afghanistan into Uzbekistan, they would have to, first, reach the northern regions of Balkh Province -- where the neo-Taliban have not been active since late 2001; second, they would have to cross the carefully guarded, 135-kilometer border formed by the Amu River that separates Afghanistan from Uzbekistan. From there they would have to go though much of Uzbekistan and/or Tajikistan to reach the area mentioned by Lavrov.
While not impossible, to complete such a mission, the neo-Taliban fighters would need the skills of some of the world's best special-operations units, which, judging by their activities in Afghanistan, they don't seem likely to possess.
Related to this issue is the neo-Taliban's priorities and manpower. Their priority is to disrupt the situation in Afghanistan toward achieving their stated goal: the withdrawal of U.S. and other foreign troops from Afghanistan and the establishment of what they believe to be a genuine Islamic state there. Despite the recent upsurge in violence associated with and claimed by the neo-Taliban in southern and southeastern Afghanistan -- far from the Afghan-Uzbek border -- the militants are not gaining new ground.
Manpower is another issue for the neo-Taliban. They don't have enough hard-core fighters to allow them to open several fronts against the Afghan government forces and their foreign backers. The last conventional battle in which the neo-Taliban and their allies participated with a significant number of fighters was Operation Anaconda in eastern Afghanistan in March 2002. Their current force structure is based on small units, who are easily deployable into localities where they not only know the terrain very well, but also have acquaintances or actually live. They don't seem to have reservists available to be dispatched to Uzbekistan.
Fighting Reconciliation
As for Lavrov's criticism of Karzai's policy of reconciliation with most militants fighting against his government, this is nothing new. During a visit to New Delhi in December 2004, Russian Defense Minister Sergei Ivanov also criticized Karzai's reconciliation policy. According to ITAR-TASS, Ivanov said that dividing the neo-Taliban into "good" and "bad" factions is unacceptable to Moscow. Russia and India are "concerned about the attempts to Pashtunize Afghanistan," Ivanov said, referring to the Pashtun ethnic group to which most members of the neo-Taliban belong. The policy of reconciliation with the neo-Taliban is tantamount to "starting a new war," Ivanov warned, echoing Lavrov's more recent warning. "The so-called immoderate members of the Taliban are alive and kicking as well as the moderate ones...[who] walk the streets and make claims to be incorporated in the new Afghan government," Ivanov said.
While many Afghan media outlets and the Council of the Ulema of Afghanistan condemned Ivanov's statement at the time, Karzai's spokesman Jawed Ludin said that Kabul was hoping that Moscow would clarify its official position regarding Ivanov's comments, warning that such statements could hurt relations between Afghanistan and the Russian Federation (see "RFE/RL Afghanistan Report," 8 December 2004).
For Afghanistan, any interference from Russia resurrects very bad memories. The Council of the Ulema said in December 2004 in response to Ivanov's statement that his "irresponsible" remarks "indicate his desire for the return of the past chaotic situation in Afghanistan," which was mainly due to "intervention and aggression" by the former Soviet Union in the country in 1979.
In response to the recent student-led demonstration in Afghanistan, President Karzai also accused foreign elements of instigating violence and trying to derail his government's attempts to establish a "strategic alliance" with the United States, with the possibility of the U.S. military basing units on Afghan soil, and to hamper his policy of bringing a peaceful conclusion to the neo-Taliban insurgency. Lavrov's statements surely add substance to Karzai's claims, though he did not single out any particular country for involvement in the Afghan violence.
See also:

What Really Happened On Bloody Friday?

Where Does Crisis Go From Here?