Kazakhstan Praised For Releasing Uzbek Dissident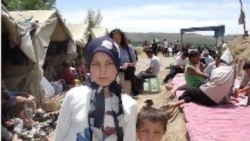 Uzbek refugees in Kyrgyzstan (file photo) 14 July 2005 (RFE/RL) -- An international human rights watchdog is praising Kazakhstan's decision not to extradite a prominent dissident to Uzbekistan and urged other Central Asian states to also resist Uzbek pressure.
The New York-based Human Rights Watch released its statement today after Kazakhstan handed Uzbek activist Lutfullo Shamsudinov to the United Nations' refugee agency, the UNHCR, rather than send him back to Uzbekistan.
Hundreds of civilians escaped bloodshed in the eastern Uzbek city of Andijon in May by fleeing to neighboring countries. Many went to Kyrgyzstan, which triggered international criticism when it handed over four refugees to Uzbekistan last month.
Uzbekistan says many of the refugees are common criminals who escaped from prison during the Andijon unrest.
(Reuters)
See also:

Kazakhstan Releases Uzbek Rights Activist