NATO Commander Visits Afghanistan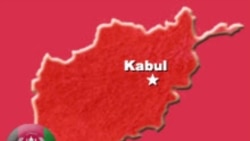 30 August 2005 (RFE/RL) -- NATO's top commander began a two-day visit to Afghanistan today to prepare for a planned expansion of the alliance's peacekeeping mission ahead of next month's election.
During his visit, General James Jones is to meet Afghan President Hamid Karzai and field commanders of the 10,000-strong NATO force.
Jones is also scheduled to fly to the south where NATO is expected next year to take over from the U.S.-led coalition forces that invaded in 2001 to topple the Taliban regime.
NATO has already taken charge in the north and west, and in Kabul, the capital.
NATO officials are hoping to complete
the expansion of the force
to cover the whole country next year, bringing its peacekeeping operation and the U.S.-led counterinsurgency operation under a united command.
(AP)
For weekly news and analysis on Afghanistan, subscribe to "RFE/RL Afghanistan Report."