Kabul Says Taliban Cannot Derail Afghan Vote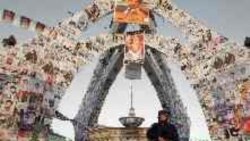 15 September 2005 -- Afghan Interior Minister Ali Ahmad Jalali vowed today that armed opposition would not succeed in derailing the country's historic national and provincial elections on 18 September.
Ali Ahmad Jalali said the government is doing everything to ensure safe voting.
"More than 100 plots were foiled by the police in Kabul and elsewhere in Afghanistan," Jalali said. "These plots include bombing plans, possible suicide attacks, placing mines and explosive materials in some regions, and also causing insecurity in border areas."
Insurgents have stepped up attacks and vowed to disrupt these elections, although a purported spokesman for the neo-Taliban suggested those fighters
would not attack polling places
.
In the latest violence, female candidate Hawa Nuristani was wounded in a gun attack yesterday.
Abdul Wakil Attak, a spokesman for the provincial governor, said Nuristani was campaigning in the eastern province of Nuristan when she was attacked.
Six candidates for office have been killed during the run-up to the vote, according to Reuters. Fighting has left more than 1,200 people dead in recent months.
(AP/Reuters)
For background and an archive of related stories, see RFE/RL's Afghanistan Votes page.