Kyrygzstan: U.S. Secretary Of State Rice Talks To RFE/RL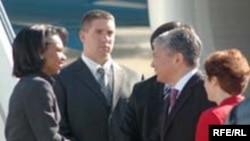 (RFE/RL) By Kubat Oturbayev and Jean-Christophe Peuch
U.S. Secretary of State Condoleezza Rice has started a four-nation Central Asian tour that is expected to take her successively to Kyrgyzstan, Afghanistan, Kazakhstan, and Tajikistan. Rice on 11 October was in Bishkek, the first leg of her regional trip. In a joint interview with RFE/RL's Kyrgyz Service and the BBC, she said the United States is not seeking permanent military bases in Central Asia, and that the facilities it is using will be vacated once the war on terrorism in neighboring Afghanistan is over.

[For audio of the full interview in English, click here for Real Audio, and click here for Windows Media]

Prague, 11 October 2005 (RFE/RL) -- Since the war in Afghanistan started in October 2001, the United States military has been using the Ganci base at Bishkek's Manas international airport for its operations against Taliban militiamen and Islamic insurgents. (For a transcript of the interview, click here.)

Washington has also been leasing military facilities in neighboring Uzbekistan and Tajikistan. But following the U.S. condemnation of the bloody military crackdown in Andijon, Uzbek authorities have given Americ an troops a few months to vacate the Karshi-Khanabad air base in the country's south. The Uzbek ultimatum has triggered speculation that the United States might be seeking to transfer its Karshi-Khanabad operations to Turkmenistan or to Azerbaijan in the southern Caucasus.

The Pentagon, in turn, has persistently denied these allegations. Talking to RFE/RL and the BBC in Bishkek, U.S. Secretary of State Condoleezza Rice on 11 October said she does not expect the Uzbek decision to significantly alter U.S. war operations in the region. "The United States believes that it can certainly continue operations and win the war on terrorism with the structures that we have in place now," Rice said. "We are supporting operations out of Manas to Uzbekistan, and we have needed overflight rights in other places, and I expect that that will continue to be the nature of our needs."
The ongoing U.S.-Kyrgyz military ties were expected to top the agenda of the talks Rice had today in Bishkek with President Kurmanbek Bakiev and Prime Minister Feliks Kulov. Rice said the bases the U.S. military has set up in the former Soviet republics of Central Asia would be closed as soon as the war on terrorism in Afghanistan is over, saying that her country is not seeking to establish a permanent military presence in the region.
"Today, President [Bakiev] spoke, and I spoke to the issue of the [Ganci] base, and he made it very clear what he has told us -- that this base is needed for the war on terrorism," Rice told RFE/RL. "It's needed until the terrorists are defeated in Afghanistan, and I don't think we want to set a timetable [for leaving]. We just have to do it as quickly as possible to defeat the terrorists. That's the goal here. It is also the case that the United States has made very clear that we are not seeking a permanent set of bases in Central Asia. We are operating here to support the war on terrorism, which is important to us and important to the region because the terrorists threaten both of us."
Citing economic difficulties, Kyrgyz authorities on 21 September said they would seek to renegotiate the terms of the agreement that allows U.S. military planes to use the Ganci air base. The initial lease was signed by Kyrgyz President Askar Akaev, who was ousted last March in a popular uprising. But Rice on 11 October hinted that Washington might object to reviewing the terms of the lease: "As to the requirements for the base and relations between Kyrgyzstan and the United States, we are always prepared to talk about our arrangements," Rice said. "But we believe that it is a fair arrangement, and we will have a team coming soon to explain better how we have been dealing with certain technical issues concerning the base."
Rice went on to praise Kyrgyzstan for allowing Andijon refugees onto its territory in the aftermath of the May crackdown and for sending most of them to Romania instead of handing them over to Uzbek authorities. (For complete coverage of Andijon and its aftermath, click here.)

She also sought to alleviate concerns in Bishkek that by choosing to antagonize Uzbekistan, Kyrgyzstan may have lost in the deal. "Our view is that the countries that fulfill their international responsibilities are the ones that the international system respects and ultimately rewards," Rice said. "Uzbekistan is not fulfilling its international responsibilities at this point, and everyone knows that. And Uzbekistan is losing support throughout Europe -- and certainly with the United States -- and that cannot be good for the people of Uzbekistan. So I think Kyrgyzstan is the one that is in the strongest position here because Kyrgyzstan is acting as a responsible citizen. There will be economic and political support for Kyrgyzstan from many countries."
Rice finally reiterated that her Central Asian tour should not be seen as directed against any third country -- be it Russia or China. "I want to be very clear. We want Kyrgyzstan to have good relations with its neighbors, good relations with Russia, good relations with China, good relations in the region. We have good relations with those countries, and we hope that Kyrgyzstan will, too," she said. "There is nothing about having good relations with the United States that suggests you have to choose to have bad relations with your neighbors. You should have good relations with your neighbors."
Russia is currently seeking to increase its military presence in Central Asia. It has announced plans to upgrade its air base in Kyrgyzstan. Also, unconfirmed reports from Tajikistan last week suggested Russia is considering setting up a new air base in that country.

Whether these plans will be quickly implemented, however, remains in question. Regional experts believe Central Asian countries will, in the meantime, seek to maintain close military ties with Washington for their own security purposes.

See also: Kyrgyzstan: U.S. Secretary of State Calls For Closer Ties
For RFE/RL's full coverage of events in Central Asia, see "Central Asia In Focus"