Ukraine Premier Talks Gas In Turkmenistan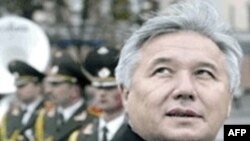 Prime Minister Yuriy Yekhanurov (file photo) (AFP) 26 October 2005 -- Ukrainian Prime Minister Yuriy Yekhanurov went to Ashgabat today to try to persuade Turkmen President Saparmurat Niyazov to sign a long-term deal on natural gas exports.
The Ukrainian delegation, which also includes Fuel and Energy Minister Ivan Plachkov, planned two days of what were expected to be tough negotiations.
Earlier this month, the Turkmen leader said a 25-year contract for natural gas deliveries to Ukraine could only be reached in consultation with Russia, a transit country.
Turkmenistan has also conditioned gas supplies to Ukraine in 2006 on payment of the debt for gas supplies this year.
(AP)