UN Starts Anti-AIDS Campaign In Russia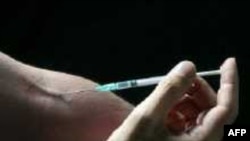 Eighty percent of Russians with HIV are under 30 (AFP) Moscow, 14 November 2005 (RFE/RL) -- The United Nations Children's Fund UNICEF and the UN's HIV/AIDS program today launched the Russian branch of their global campaign against the epidemic.
Carel de Rooy, UNICEF's representative in Russia, told journalists in Moscow that the campaign -- called "Unite For Children, Unite Against AIDS" -- aims to draw attention to the growing impact of the epidemic on children in Russia.
He said the campaign will work to raise awareness, provide HIV-positive children with treatment, and fight the strong stigma and discrimination associated with HIV in Russia.
According to UNICEF, more than 100 new HIV infections are registered every day in Russia, making the country the site of one of the world's fastest-growing HIV epidemics.
Eighty percent of HIV-positive Russians are under 30 years old.