U.S. Navy Lieutenant Commander Joe Carpenter, a Pentagon spokesman, said U.S. personnel held a flag-lowering ceremony at the base and formally returned control of the facility to the Uzbek government. He said the final 90 U.S. personnel were flown out of the base on the afternoon of 21 November.
The Uzbek government had permitted U.S. forces to use the base to support antiterrorism operations in Afghanistan shortly after the 11 September 2001 attacks on America.
But Uzbek authorities in July ordered the United States to leave the base after U.S. spokespeople criticized the Uzbek government's bloody suppression of a revolt in the town of Andijon in May.
The United States still has access to a base in Kyrgyzstan to support Afghan operations.
(Reuters)
Central Asia Bases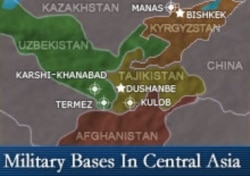 Click on the map for an enlarged image.