More than 9,500 polling stations opened across Kazakhstan today at 7 a.m. local time in Kazakhstan.
Incumbent President Nazarbaev -- who has been in office for the last 16 years -- is widely expected to win another seven-year term. He spoke to journalists after casting his ballot in the capital Astana.
"I am sure that the Kazakh people will choose political stability, friendship, and unity for our multiethnic people -- that they will choose progress of the state in this direction and that soon the Kazakh state with its people will become one of the top 50 most industrialized countries of the world," Nazarbaev told reporters. "We will maintain the stability of our country. The economy will be growing. And with economic growth, the living conditions of our people will improve."
Nazarbaev said the election is being carried out under "unprecedented democratic conditions."
Opinion surveys conducted shortly before today's election suggest about 70 percent of eligible voters intened to vote for Nazarbaev. Among them is Abdurakhman, who cast his ballot at a polling station in Astana.
"I have voted for Nazarbaev because everything is going all right [under his administration]. The economy is doing well in Kazakhstan. He supported Kazakhstan at a very difficult period of time," Abdurakhman told Reuters.
Another voter in Astana, Lola Khaidarova, said she also voted for Nazarbaev. "[I'm voting] for our President Nazarbaev because we are living with peace here and [Kazakhstan is] more prosperous compared with other CIS countries," she said.
Four candidates are running against Nazarbaev. Opinion polls suggest the incumbent's leading opponent is Zharmakhan Tuyakbai. "I believe the [Kazakh] authorities finally admit that people in the country want democracy, justice, and order," he said today. "I think most citizens of our country will vote for these principles."
Another candidate, Mels Eleusizov from the Tabighat (Nature) movement, said voters should have more choices. "I am for democracy," he said. "Do you want Nazarbaev alone [as a presidential candidate]? There should be more candidates so that people can choose the best -- the one they want. People should have a choice. This is the true meaning of elections. This is the true meaning of democracy."
Also in the running are Alikhan Baimenov, the leader of the opposition Ak Zhol (Bright Path) party, and Yerasyl Abylkasymov of the Communist People's Party.
The opposition in Kazakhstan has long accused authorities of trying to manipulate election results. Today, opposition candidates alleged there already have been irregularities. Tuyakbai said after casing his ballot in Almaty that there are alarming signals from provincial regions about electoral violations. He said his campaign has evidence of duplicate voter lists that could allow for multiple voting.
"We've said before that if there are irregularities, we will protest against them in accordance with laws and within the constitution," Tuyakbai said.
Eleusizov said Kazakhstan's political opposition lost all previous elections only because of what he called the passivity of the electorate.
Electoral officials said today that low turnout wasn't a problem. Central Election Commission Chairman Onalsyn Zhumabekov said more than 10 percent of 8.7 million registered voters had cast a ballot by 11 a.m. local time.
More than 1,600 foreign observers are monitoring the ballot. Polls were scheduled to close at 8 p.m. local time (14:00 UTC/GMT). The first preliminary official results are expected tomorrow.
The Voting In Images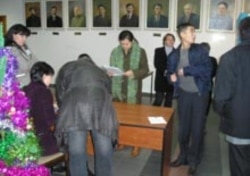 Workers at Almaty polling station No. 310 registering election monitors prior to the opening of voting on December 4


To see more images collected by RFE/RL's Kazakh Service during the voting on December 4,
click here.



RFE/RL's complete coverage and background of Kazakhstan's presidential election on December 4, 2005.