Members Of Russian Skinhead Group Jailed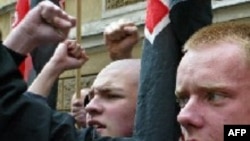 A Skinhead protest in Russia (file photo) (AFP) 14 December 2005 -- A Russian court convicted six members of a radical youth group of inciting racial and interethnic hatred and sentenced them to prison terms of up to three years.
The members of the Mad Crowd (Bezumnaya Tolpa) group were accused of beating up foreigners, including people from the Caucasus, in a series of attacks in 2002 and 2003.
The St. Petersburg city court sentenced five of the defendants to between two and three years in a penal colony. One defendant was given a suspended sentence.
Today's ruling comes less than a week after the court in St. Petersburg sentenced the leader of another skinhead group that used to beat up people from the Caucasus to six years in prison.
(lenta.ru/Interfax)