Three Police Wounded In Russia's Daghestan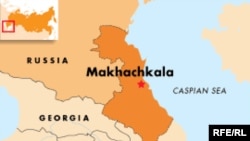 (RFE/RL) 27 December 2005 -- A shoot-out erupted today between police officers and an unidentified group they were trying to apprehend in the southern Russian region of Daghestan.
An Interior Ministry spokesman, Abdul Musayev, said three officers were injured in the fighting in the village of Nuradilovo near the Chechen border.
AFP reports that a police officer and a gunman were also killed.
Daghestan is frequently the scene of violent attacks aimed directly at Russian law enforcement personnel and facilities.
(AFP/AP)