PRAGUE, 19 December 2006 (RFE/RL) -- Western news agencies today quote Pakistani intelligence sources as saying those killed in the 13 January attack include a son-in-law of Al-Qaeda second-in-command Ayman al-Zawahri.
The sources, who spoke anonymously, say another of those killed is thought to be a bomb-making expert -- Midhat Mursi al-Sayid 'Umar -- who had a $5 million reward on his head.
"I think Musharraf also worries about whether or not Washington will stay the course. Therefore, he's got to keep the Americans online: hold something that they want. In that respect, Osama could be seen as an insurance policy for them."
The air strike targeted a dinner party in the village of Damadola and was reportedly intended to kill al-Zawahri. However, news agencies quote sources as saying al-Zawahri escaped harm because he failed to show up for the meal.
"The Washington Post" reported that "one U.S. source said the CIA had been tracking movements in the area for two weeks, and another [source] said U.S. intelligence officials were given time-sensitive information that al-Zawahri was expected to be among a group of guests at a banquet" that night.
Al-Zawahri has been a spokesman for Al-Qaeda and, in the past year, has issued a number of videotaped messages threatening even greater acts of terror against the United States: "Oh Americans, what you have seen in New York and Washington, and the casualties you witness in Afghanistan and in Iraq, despite all the media blackout, are nothing but the casualties of the initial clashes. If you continue the same policy of aggression against the Muslims, you will see, Allah willing, horrors that will make you forget what you saw in Afghanistan...I mean, in Vietnam."
The U.S. administration has not officially acknowledged the 13 January air strike in Pakistan as a U.S. operation.
But the attack has caused a firestorm of protests in Pakistan against Washington because it killed a total of 18 people, including women and children.
Shortly after the attack, Pakistan's Federal Information Minister Sheikh Rashid Ahmed issued a statement saying that there was "no information about the presence of any foreign terrorists" in the Bajur tribal agency.
Ahmed added, "Such a violation of our territories will not be tolerated next time." He said: "We deeply regret that civilian lives have been lost in an incident in Bajur Agency. While this act is highly condemnable, we have been for a long time striving to rid all our tribal areas of foreign intruders who have been responsible for all the misery and violence in the region. This situation has to be brought to an end."
Under the terms of Pakistan's partnership with the U.S. in the war on terror, the U.S. military is forbidden from conducting military operations on Pakistani territory.
Pakistani Prime Minister Shauat Aziz restated those terms during a press conference in Islamabad with former President George W. Bush shortly after the attack.
"The Washington Post" on 18 January quoted Aziz as saying, "Pakistan is committed to fighting terrorism, but naturally we cannot accept any action within our country which results in what happened over the weekend."
Aziz also said he would raise the issue with U.S. officials during a forthcoming trip to Washington. He characterized the incident as "unfortunate" in a "long-standing" relationship with the United States.
The incident is sure to increase domestic pressure on Musharraf by domestic Islamic groups such as the Mutahiddah Majlis-i-Amal. The pro-government regional party Mutahiddah Qaumi Movement has also condemned the president's policies.

Some think tanks such as Stratfor do not believe that the incident will threaten Musharraf's hold on power but will add to a mounting list of destabilizing problems.
Musharraf is faced with Al-Qaeda related attacks on security forces in the federal tribal areas and setbacks in normalizing relations with India.
The incident also points to increasing pressure on U.S. forces to produce a significant victory over Al-Qaeda. The rising number of terrorist incidents attributed to the Taliban and Al-Qaeda inside Afghanistan, coupled with the lack of success in quelling the insurgency in Iraq, could be forcing U.S. military commanders to risk taking chances in the hope of killing a major terrorist leader.
Complicating the Pakistan-U.S. alliance in the war on Al-Qaeda are persistent complaints by high-level Afghan officials that Pakistani government leaders continue to support Taliban-led attacks in Afghanistan.
Assadullah Khalid, the governor of Kandahar, told RFE/RL recently that suicide bombers are trained and equipped in Pakistan and then sent to Afghanistan for sabotage activities. "It is clear that this area has a long border with Pakistan," he said. "And it is also clear that all enemies of Afghanistan live inside Pakistan. They have centers for training suicide bombers. They can easily infiltrate Kandahar [Province]. Afghans don't have the history of suicide bombing. These are all foreigners."
Khalid's remarks came soon after Afghan President Hamid Karzai said intelligence reports show foreign suicide bombers are being trained in frontier regions, presumably meaning in Pakistan.
Some analysts say Pakistan is not willing to take a strong enough stand against Al-Qaeda and might, in fact, be involved in sheltering some of its leaders.
Replying to a question posed by "The New York Times" on 15 September, George Perkovich of the Carnegie Endowment for International Peace put his view as follows. "For me," he said, "the outstanding question is, at the highest levels in Islamabad is there a conviction that capturing or killing [Osama] bin Laden would be good for the leadership of Pakistan?"
Perkovich continued: "And given the answer to that question, how hard are they willing to try? And can they afford to be seen as being solidly on America's side? I think Musharraf also worries about whether or not Washington will stay the course. Therefore, he's got to keep the Americans online: hold back something that they want. And, in that respect, Osama could be seen as an insurance policy for them."
Who Is Ayman al-Zawahri?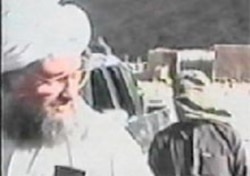 AYMAN AL-ZAWAHRI is regarded as Al-Qaeda's No. 2 authority. Although al-Zawahri is lesser known than Osama bin Laden, some observers say the deputy is just as powerful as the chief....(more)
See also:
Is Al-Qaeda Letter Sign Of Rift, Or Opportunity For Bush?