Russia Calls For Consensus On OSCE Activities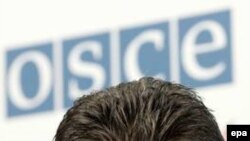 Karel De Gucht, chair of the OSCE (file photo) (epa) 26 January 2006 -- Russia's foreign minister indicated today that Moscow remains at odds with Western countries over the role of the Organization for Security and Cooperation in Europe (OSCE) in monitoring elections.
Foreign Minister Sergei Lavrov said OSCE members "must seek a consensus" on issues such as the activities of the Office for Democratic Institutions and Human Rights, "including in the area of election monitoring."
Russia has criticized OSCE monitoring practices which it says are colored by political interests.
Lavrov was speaking after meeting with the OSCE chairman, Belgian Foreign Minister Karel De Gucht.
In a statement released before the talks, Russian Foreign Ministry spokesman Mikhail Kamynin said Russia is demanding that OSCE monitoring missions be formed in a "clear and transparent way" and that their makeup be balanced among member states.
(AP, ITAR-TASS)