KABUL, 14 February 2006 (RFE/RL) -- None of Afghanistan's main Western supporters doubt that the country's recovery depends upon bringing the illicit drug trade under control.
Officials in the NATO-led International Security Assistance Force (ISAF) estimate that the production and trafficking of illegal narcotics accounts for up to two-thirds of the Afghan economy. One ISAF official summarized the situation by saying that Afghanistan's economy is comprised of Western aid and the illegal drug trade.
Hikmet Cetin, NATO's civilian representative in Afghanistan, estimates the value of the drug industry at nearly $3 billion a year. Cetin says Afghanistan's economic dependence on narcotics rules out any quick remedies.
"It is an illegal reality in this country -- drugs," Cetin says. "Whether you like it or not, between 50 and 60 percent of gross domestic product [is] originating from drugs. And what will happen, without creating an alternative, if you just -- in one year or one day -- get rid of 55 percent of your GDP? In any country, everything will collapse."
Cetin says an effective counternarcotics policy is needed or there will never be "a stable, secure, and peaceful Afghanistan."
Only 'Support' Role
Yet NATO rejects an active leadership in a counternarcotics role. ISAF's mandate from the UN Security Council allows the NATO-led force only to "support" counternarcotics efforts undertaken by the Afghan central government. A recent U.S. request for a tougher NATO role in counternarcotics was vetoed by France.
ISAF officials in Afghanistan also say their joint civilian-military Provincial Reconstruction Teams (PRTs) also are in a difficult situation. Pursuing drug traffickers means antagonizing regional warlords or drug barons who profit from the illicit trade. Often, these regional power brokers have strong influence over local public opinion. The PRTs, in turn, have more difficulties when they do not have the support of the local population.
Officials say that to prevent Afghanistan from becoming a narco-state, officials in Kabul must achieve three closely linked tasks: establish the rule of law, reform the economy, and provide alternative sources of income to Afghan farmers who grow the poppy flowers from which heroin and other opiates are produced.
Establishing the rule of law means creating a functioning police force, judiciary, and penal system -- as well as rooting out corruption. That may prove to be the hardest task to achieve.
Cetin says about $800 million in drug proceeds go to Afghan poppy farmers each year. He estimates the rest, more than $2 billion, is taken by drug traffickers and warlords who control export routes from Afghanistan. Profits from the drug trade help some warlords pay the salaries of illegal regional militia forces. Drug funds also are used for terrorism.
Part Of The Problem, Not The Solution
Western officials say Afghan authorities must bear the brunt of the fight against organized criminal drug traffickers. But they concede that Afghan police are unprepared for the battle.
Cetin says 60 percent of Afghan police officers are illiterate. Police salaries are relatively minuscule -- even compared to the Afghan National Army -- increasing opportunities for criminals to bribe police officers. Salaries remain an issue, despite some $900 million contributed to Kabul by the United States for police reforms and pay raises.
Francesc Vendrell, the EU's special representative for Afghanistan, tells RFE/RL that the Afghan police are "part of the problem" rather than the solution. "We still have a major problem with the police in terms that they are not properly trained," he says. "They are often a source of insecurity in this country rather than a source of security."
Vendrell says NATO and the EU can help indirectly by helping to build up an effective Afghan police force. He says ISAF should be doing more than its German-run police-training program. He suggests that ISAF could match the U.S. investment.
Vendrell says Afghan authorities need to carry out a radical overhaul of law enforcement in order to weed out corruption. "You need a police [force] that will not be corrupted by narcotics," he says. "And you need to get rid of any authority -- any senior person in authority be it governor, chief of police, or head of a district -- who is linked to drug production and trade. Now, that last part is the one thing that I think we can do faster."
Alternative Livelihood Needed
Reform of the Afghan judiciary will take years. But establishing the rule of law is just the beginning. Vendrell notes that Afghanistan currently has nothing to replace drugs as its main export. And helping Afghan farmers develop alternative livelihoods also will take years.
NATO's Cetin says Afghanistan may not have so much time. As an example, he cites the recent experience of farmers in the eastern province of Nangarhar who heeded a call by Afghan President Hamid Karzai in 2004 to give up poppy cultivation. Cetin says those farmers "got nothing" in return and are now starting to grow poppies again.
Cetin says the $10.5 billion in aid pledged at the recent London Conference for Afghanistan may relieve the situation somewhat.
Vendrell suggests that what will be decisive in the end is whether the Afghan public thinks that justice is being served in their country. He says a counternarcotics policy cannot succeed if it targets poor rural farmers but leaves the "big men in the capital" untouched.
Vendrell insists that President Karzai must take tougher action against high-ranking government officials or parliamentarians who are implicated in drug trafficking. "We also need to take some tough measures. I think the best way to do it is for the president to remove from office a few notorious people linked to the drug trade," he says. "Then the message will go to all the other authorities that this is no longer going to be tolerated."
NATO's Cetin was unwilling to comment on reports about alleged links between Karzai and some people implicated in the drug trade. He says the Afghan president remains committed to the fight against illegal drug trafficking. Cetin also notes that Kabul has full control over all provincial governors -- as well as provincial police chiefs.
Vendrell says that with the correct political will there is no reason why Afghanistan cannot emulate Thailand or Pakistan -- both of which eliminated much of the illegal poppy cultivation on their territory within 10 to 15 years.
Foreign Minister Abdullah Abdullah
Foreign Minister Abdullah Abdullah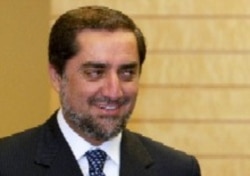 Abdullah Abdullah (epa)


Afghan Foreign Minister ABDULLAH ABDULLAH on January 21 spoke by telephone with RFE/RL Afghan Service correspondent Zarif Nazar. Abdullah discussed the most recent videotaped message from Al-Qaeda leader Osama bin Laden, the current state of the Taliban, terrorist attacks in Afghanistan, and the upcoming London conference on the Afghanistan Compact.
To read the complete interview,click here.