Uzbek Convicts Denied Texts Of Verdicts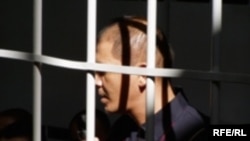 Defendent in the Andijon trials, September 2005 (RFE/RL) 27 February 2006 -- A prominent Uzbek rights activist says individuals sentenced to prison terms for involvement in an anti-government uprising last year have been denied written information on their sentences.
The head of the Center for Human Rights Initiatives in Tashkent, Surat Ikramov, told the ferghana.ru news agency that the prisoners cannot submit appeals without this information.
Ikramov accused the authorities of deliberately withholding details about the trials and sentences.
In a series of closed-door trials last year, nearly 180 people were sentenced to years in jail for involvement in the May 2005 demonstrations and violence in the eastern city of Andijon.
(ferghana.ru)



A dedicated webpage bringing together all of RFE/RL's coverage of the events in Andijon, Uzbekistan, in May 2005 and their continuing repercussions.
CHRONOLOGY
An
annotated timeline
of the Andijon events and their repercussions.