Viktor Medvedchuk, one of the leaders of the bloc "Ne Tak," said that all documents had been delivered to the central election commission.
The move by the opposition bloc reflects the feeling of many Ukrainians, particularly in the Russian-speaking east, who have a negative attitude toward the alliance.
Medvedchuk, the former head of ex-President Leonid Kuchma's administration, said last October that his bloc had started collecting signatures for a referendum to let voters decide whether or not Ukraine should join NATO.
President Viktor Yushchenko's pro-Western policies and his call for NATO membership have become issues in the runup to parliamentary elections on 26 March.
(AP)

Spotlight On Yuliya Tymoshenko
Spotlight On Yuliya Tymoshenko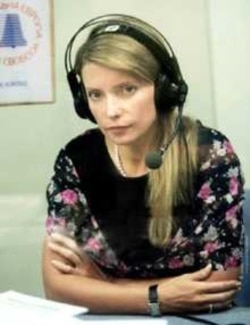 READ
Former Prime Minister
YULIYA TYMOSHENKO
has long been a controversial figure in Ukrainian politics. A former economist and head of Unified Energy Systems (EES) of Ukraine from Dnipropetrovsk in eastern Ukraine, Tymoshenko served as deputy prime minister for energy in the cabinet of Viktor Yushchenko, when he was prime minister under former President Leonid Kuchma. She has faced legal troubles linked to corruption allegations both in Ukraine and in Russia, although all cases against her have now been dropped. Tymoshenko was a firebrand of the opposition movement during the 2004 Orange Revolution, leading demonstrators to surround the presidential administration and issuing ultimatums to the Kuchma government.
In March 2005, President Viktor Yushchenko named her prime minister, a post that she held until September of that year. In August, on the occasion of the six-month anniversary of her appointment, Tymoshenko spoke with RFE/RL at length, discussing, among other things, the then-looming gas conflict with Russia and the likelihood of a "difficult and dirty" battle in the upcoming parliamentary elections
....(more)
See also:
Interview -- Yuliya Tymoshenko Marks First 100 Days As PM
Former Prime Minister Offers President Olive Branch
Former Prime Minister Tymoshenko To Go It Alone

ARCHIVE: An archive of RFE/RL's reporting and analysis on Ukraine's Orange Revolution.
LISTEN
Listen to an audio portrait of the Orange Revolution from RFE/RL's archives. Click
here
for Real Audio and
here
for Windows Media.