Police in Afghanistan's southeastern province of Paktia say Mohammed Zahir was killed in a gun battle that broke out this morning while he was traveling to work in the Zurmat district. Police say Zahir used an AK-47 he was carrying to kill one of his attackers. Another attacker reportedly was captured.
In the southern province of Kandahar, an overnight clash left five police and two pro-Taliban fighters dead. Afghan Interior Ministry spokesman Syed Mohammed says that battle broke out when militants with assault rifles attacked a police checkpoint in Kandahar Province's Mianashien district -- near neighboring Oruzgan and Zabul provinces.
It is isolated mountain region where pro-Tailban militants have remained strong despite more than four years of counter-terrorism operations by U.S.-led coalition forces in Afghanistan.
(with material from AP)
Suicide Attacks In Afghanistan
Suicide Attacks In Afghanistan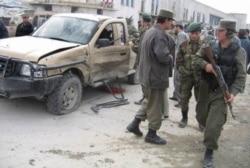 The results of a suicide-bomb attack in Kandahar Province on January 16 (epa)
Suicide bombers have struck more than two dozen times in Afghanistan since neo-Taliban and Al-Qaeda insurgents appear to have stepped up use of such attacks following the provincial and national elections of September 2005. While sporadic until recent months, suicide bombings have killed at least 90 people in Afghanistan since late 2001 -- including the attack in the days leading up to 9/11 that left legendary Afghan mujahedin commander Ahmad Shah Mas'ud dead. For an overview of suicide attacks in Afghanistan dating back to 2001, click here.