The Kazakh Defense Ministry said its goal is to bring the Kazakh military up to NATO standards to enable it to work alongside NATO forces.
Following a meeting with NATO representatives in the Kazakh capital, Astana, the Ministry stated that Kazakhstan and NATO will work together on crisis response, antiterrorism efforts, and border security.
(ITAR-TASS)
Central Asia Bases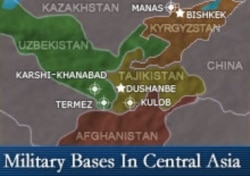 Click on the map for an enlarged image.