Commission spokeswoman Emma Udwin says she believes the initial problems at the Transdniestrian-Ukrainian border have been largely solved and that the self-imposed blockade by Transdniester has ended.
Udwin said the measures are in everyone's interests.
"We believe that it is extremely important that the value of the regime that has been put in place is understood by all parties," she said. "We have no intention of blockading [Transdniester]. What we want to see is a transparent border that serves the interests of all and ensures that revenues that are due to Chisinau flow to Chisinau and not to Tiraspol."
Udwin also said the EU border monitoring mission operating in Moldova and Ukraine since late last year has made "some finds" in tracking down illicit goods and has identified ways in which border controls have so far been evaded.
Udwin also reiterated the long-held EU policy of nonrecognition of Transdniester. She said the EU "clearly supports the territorial integrity of Moldova."

The Transdniester Conflict
The Transdniester Conflict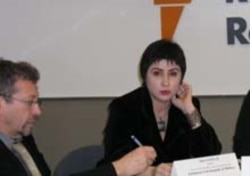 Stela Jantuan, head of the Information, Analysis, and Prognosis Service of the Moldovan parliament (RFE/RL)

FROZEN CONFLICT: On January 11, 2006, RFE/RL's Washington office hosted a panel discussion on prospects for settling the Transdniester conflict. The roundtable featured STEFAN GLIGOR and STELA JANTUAN of the Information, Analysis, and Prognosis Service of the Moldovan parliament and ALEXANDRU FLENCHA, head of the information and analysis division of Moldova's Ministry of Reintegration.
LISTEN
Listen to the complete panel discussion (about 90 minutes):

Real Audio
Windows Media
TALKS CONTINUE. The conflict between the Republic of Moldova and the unrecognized, separatist Transdniester Republic has festered for more than 15 years. A decade of talks supervised by the OSCE, Russia, and Ukraine have stagnated, while allegations mount concerning the involvement of Transdniester separatists in money-laundering and trafficking in arms, drugs, and human beings. What are the current prospects for settling this frozen conflict? (more)
ARCHIVE
An archive of RFE/RL's coverage of Transdniester.