Moscow Court Bans Gay Pride Parade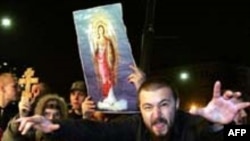 Demonstrators outside a gay club in Moscow in early May (AFP) May 26, 2006 - A Moscow court today upheld the decision of  the Moscow mayor's office to ban a gay pride parade in the Russian capital.
The organizers say they will appeal.
Moscow Mayor Yury Luzhkov had opposed the march on the grounds that most people oppose "such public expressions of sexual tendencies."
(Interfax, ITAR-TASS)