Chechnya: Separatist Foreign Representative Stresses Negotiations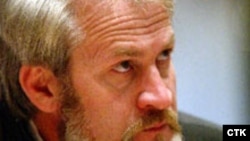 Akhmed Zakayev (CTK) Chechnya's separatist leadership announced changes to its political structure on May 29, naming Akhmed Zakayev as the underground government's new foreign minister. Zakayev, who has been granted political asylum in Britain, previously served as culture minister before being dismissed earlier this year. In an exclusive telephone interview with RFE/RL's North Caucasus Service, Zakayev discusses his new responsibilities as well as ongoing efforts to find a peaceful solution to the Chechen conflict.
RFE/RL: What responsibilities will you have as the new foreign minister?
Akhmed Zakayev: My responsibilities and the work I am doing will remain the same. They are not changing and cannot be changed. The president [Abdul-Khalim Sadulayev] and the [separatist] government have developed a solid strategy, according to which all work done abroad will be coordinated by one agency. The other ministries and especially the heads of the ministries will have to stay in the country [Chechnya]. They will observe the situation in the front lines and will control it on the ground.
RFE/RL: Will you continue looking for peaceful solutions to the Chechen conflict?
Zakayev: I am deeply convinced that the Chechen conflict, and a conflict in the Northern Caucasus overall, can be solved only through peaceful negotiations. We will continue to seek peace and I am sure there is no other way out. I think the Russian authorities also clearly understand this and that there are more and more people in Russia who seek a peaceful solution. I know that officials of the Russian government discuss this problem, not to mention nongovernmental organizations.
RFE/RL: Is your position toward reaching a peaceful settlement changing?
Zakayev: At the very beginning of the war, [former Chechen President] Aslan Maskhadov suggested that the problems had to be solved through negotiations. Our attitude has not changed since then. The current president of Chechnya, Abdul-Khalim Sadulayev, supports this course. He has stressed several times that we are not against peace and accord. The only thing is that we will not ask for them [negotiations] again. If the opponents decide to use political methods to solve this problem, we will of course support that decision. We will also continue working with nongovernmental organizations and will do all we can in this regard.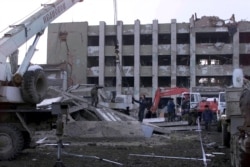 The aftermath of a December 2002 Chechen resistance attack on the main government building in Grozny (epa)


CHRONOLOGY
The
fighting in Chechnya
has raged, with short breaks, since 1994. It has brought misery, death, and destruction to the North Caucasus republic and to Russia as a whole. View an
annotated timeline
of the conflict.

ARCHIVE
RFE/RL's complete coverage of Russia's war-torn Republic of Chechnya.