Officials Say Troops Retake District From Taliban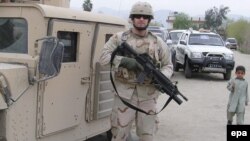 Violence has increased recently in Afghanistan (epa) June 3, 2006 -- Afghanistan's Defense Ministry says U.S.-led coalition and Afghan troops have recaptured a southern district occupied by the Taliban earlier this week.
A spokesman, Zahir Azimi, said the troops took control of the Chora district in Oruzgan Province late on June 2, killing at least 15 suspected Taliban and pushing the rest back into the mountains.
When the Taliban overran the district on May 30, they said they had killed more than a dozen policemen.
Separately, security forces said they killed 12 suspected Taliban after clashes in the southern Kandahar Province. In neighboring Helmand Province, security forces captured 18 suspects after militants ambushed a police vehicle.
Violence has intensified in southern Afghanistan over the past few weeks, with hundreds of people killed, most of them militants.
(Reuters, AFP)