The ICRC said it suspended visits in September 2004 owing to the number of obstacles it faced. Talks with Russian officials to reduce the obstacles have so far failed.
The Geneva-based agency said ICRC President Jakob Kellenberger wrote to Putin to help unblock the negotiations. In his letter, Kellenberger said he was prepared to travel to Moscow to meet Putin to discuss the issue.
The ICRC, which has a mandate to try and uphold the Geneva Convention on the treatment of combatants and civilians during conflicts, is demanding unrestricted access to all detainees and detention centers.
(AP, dpa, AFP)
MORE: In May, a man who says he was tortured in a secret prison in Chechnya run by the Russian secret services and the pro-Kremlin Chechen administration spoke with RFE/RL about his ordeal.

The Chechnya Conflict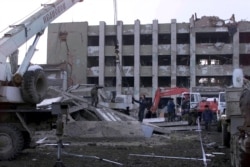 The aftermath of a December 2002 Chechen resistance attack on the main government building in Grozny (epa)


CHRONOLOGY
The
fighting in Chechnya
has raged, with short breaks, since 1994. It has brought misery, death, and destruction to the North Caucasus republic and to Russia as a whole. View an
annotated timeline
of the conflict.

ARCHIVE
RFE/RL's complete coverage of Russia's war-torn Republic of Chechnya.