U.S. To Talk With Russia On Nuclear Cooperation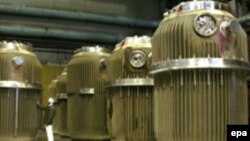 Containers with waste nuclear fuel delivered from the Kozlodui nuclear plant in Bulgaria to Russia (file photo) (epa) July 9, 2006 -- The White House says the United States will start talks with Russia on cooperation in the field of nuclear energy.
Spokesman Peter Watkins provided no specifics about the scope of cooperation that will be considered in the talks.
The "Washington Post" reported on July 8 that a deal would clear the way for Russia to import and store thousands of tons of spent nuclear fuel from U.S.-supplied reactors around the world.
(Reuters)

Russia's Nuclear Power Chief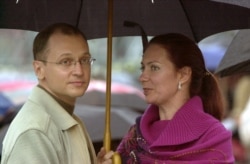 Sergei Kiriyenko and his wife, Maria, at a rock concert in 2004 (TASS)


A RISING STAR: In August 1998, Russia spiraled into financial meltdown. The subsequent ruble devaluation was a severe blow to the country's financial system and millions of people lost their savings. At the helm was Prime Minister SERGEI KIRIYENKO, who, along with his government, was subsequently forced to resign by then President Boris Yeltsin. Since that career low, Kiriyenko's fortunes have changed. Currently in charge of Rosatom, Russia's Federal Atomic Energy Agency, he is thought by many to be a politician on the rise.... (more)
See also:
Moscow Seeks To Reignite Nuclear Power Industry
Putin's Former Colleagues Make Up Today's Energy 'Team'