Two police officers are reported in serious condition after the clashes.
Local residents were trying to prevent the demolition of their houses, which officials say were built illegally.
"Our house was built last year," local resident Ardaq Eszhanqyzy told RFE/RL. "Where was the government then? They said: 'Go ahead, build your houses!' on the eve of [presidential] elections last [December]. And now look what they are doing! It is not just!"
About 1,000 police made at least two attempts to storm the district today, but encountered resistance. Protesters took briefly at least two police officers hostage and released them only after the regional police chief promised not to send troops to the district anymore.
In all, about 15 police officers were hospitalized and a fire truck was torched by angry protesters.
Municipal officials say they are trying to "clean up" at least three districts on the outskirts of Almaty -- Baqay, Aygerim, and Shanghyraq.
The administration says all the buildings constructed in those districts between 1995 and 2005 were built illegally.
On July 7, dozens of houses were demolished forcibly in Baqay district.
Almaty, July 14
THE DAY IN IMAGES: RFE/RL's Kazakh Service sent these images of the protests today in Almaty.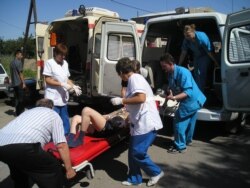 (RFE/RL)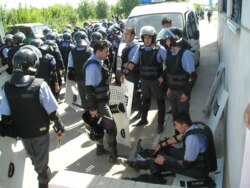 (RFE/RL)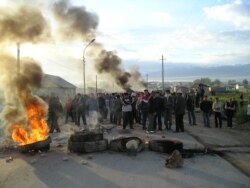 (RFE/RL)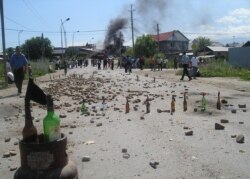 (RFE/RL)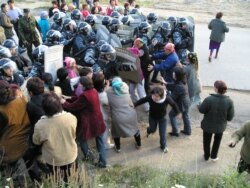 (RFE/RL)


HUMAN RIGHTS OVERVIEW: For a regular review of civil-society developments throughout RFE/RL's broadcast region, subscribe to "RFE/RL (Un)Civil Societies."