European Court To Rule On Chechnya Case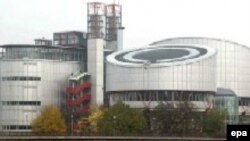 The European Court of Human Rights (epa) PRAGUE, July 27, 2006 (RFE/RL) -- The European Court of Human Rights is to rule today in the case of a woman whose son disappeared after he was detained by Russian forces in Chechnya.
Fatima Bazorkina claims her son was mistreated and killed by federal forces and that no effective investigation was carried out.
Television news in 2000 showed Khadzhi-Murat Yandiyev being interrogated by a Russian officer who then ordered him shot.


RFE/RL's complete coverage of Russia's war-torn Republic of Chechnya.
CHRONOLOGY
An
annotated timeline
of the Chechnya conflict.