Ambush In Ingushetia Leaves One Dead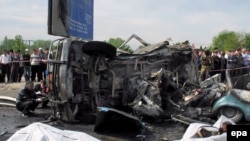 The wreckage of a car in which Ingushetia's deputy interior minister, Dzhabrail Kostoyev, was killed in May (epa) August 16, 2006 -- One Russian soldier was killed when unidentified gunmen opened fire at a military convoy carrying soldiers in Nazran, the capital of the Russian republic of Ingushetia.
Two others were injured in the attack.
The convoy was heading for Vladikavkaz, in North Ossetia.
(Interfax)

​