Uzbek Pro-Government Site Criticizes Freedom House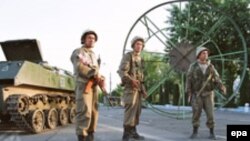 Longstanding concerns about rights and freedoms in Uzbekistan heightened after a bloody crackdown on political opponents in the city of Andijon in May 2005 (epa) September 8, 2006 - A pro-government information website in Uzbekistan today carried comments critical of Freedom House, which earlier this week listed the Central Asian country among the world's most dictatorial nations.
In remarks made to the press-uz.info information website, Bektosh Berdiev of the Tashkent-based Regional Policy Foundation said the U.S.-based nongovernmental organization had "neither the legal, nor the moral right to monitor political and civil liberties worldwide."
Press-uz.info says Berdiev -- whom it identifies as an independent expert -- was reacting to an interview the director of Freedom House Europe gave RFE/RL on September 7.
In it, Kristie Evenson singled out Uzbekistan and Turkmenistan as being among those Central Asian states in which there is "little hope" of seeing political freedom or civil liberties improve "in the near future."
Uzbek authorities in March banned Freedom House from the country, alleging the group had violated national laws on NGOs.
Press-uz.info quotes Berdiev as accusing Freedom House of training "unregistered politicized and human rights structures" in civic disobedience actions.