According to the latest Russian media reports, at least three Chechens and one Ingush policemen were killed and more than a dozen wounded.
It was not immediately clear what sparked the clash. Initial reports said the clash began after the Chechens refused to identify themselves. Other reports suggest Ingush police opened fire without warning on the Chechens, who were returning home after a special operation across the border.
A spokesman for the Ingush interior ministry said the incident was a "fatal mistake."
Senior officials from both sides are at the site investigating the incident.
(ITAR-TASS, Interfax)

The Chechnya Conflict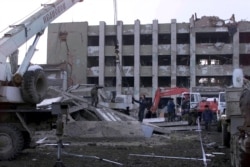 The aftermath of a December 2002 Chechen resistance attack on the main government building in Grozny (epa)


CHRONOLOGY
The
fighting in Chechnya
has raged, with short breaks, since 1994. It has brought misery, death, and destruction to the North Caucasus republic and to Russia as a whole. View an
annotated timeline
of the conflict.

ARCHIVE
RFE/RL's complete coverage of Russia's war-torn Republic of Chechnya.